I attended ExotiCon this past weekend (November 16th - 19th, 2000) and had a monster good time meeting new folks, hanging out being goofy in the French Quarter, being queen, and generally laughing till my face ached and talking so much that my voice still hasn't come back yet.
I started out my packing in a somewhat reasonable hour and even got enough done before leaving town that I got some laundry done too. I even put together this cute little fast forward animation of what happens when I get a suitcase and throw outfits together for one of these shindigs. (I am warning you that it's over 7 megs.. don't download unless you have time).
I had an uneventful flight except for the fact that it was over an hour and a half late getting to the airport and I was afraid of the obvious happening every time i get to a con and they promise to come get me.. they don't. It's very stressful and i end up having to lug my bags to the nearest phone to bitch out whatever person answers first. Then I usually take the shuttle and try to destress when I get to my room.
That didn't happen. Jen and Rob were both there to pick me up even though the plane was late and I immediately picked up on the Canadian thing. For those of you that don't know, I really don't hang with Canadians much - college ruined it for me as they were all hockey players and womanizers - but that's a different rant entirely. So I kinda ragged them out of habit (it's neat hearing them say Minnesota - Minisooooda) and then they proceeded to rag me about rampant cattle molestation in the south, so we called a truce and headed to the hotel.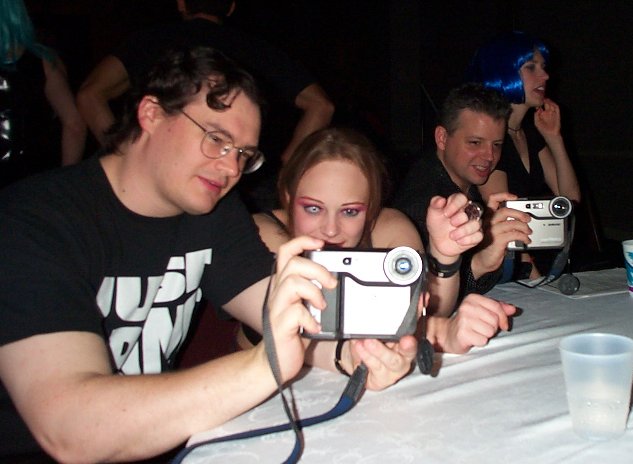 Christine looks so happy and enthralled like a little kid :)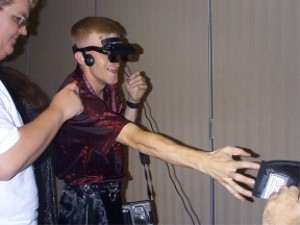 Keefer is using one of the more cooler cameras - it took 3D pics
It was there I ran into CircleK who had just gotten there with Twist (who had driven 18 hours to be there). Surprisingly enough they weren't as tired as they thought they would be, so they were all for going out as well. While I checked into my room, I was informed that the Reverend was getting antsy at the bar waiting for me (read as getting really plowed), so i dumped my bags and headed downstairs to greet him. I know we have heard this before from all of my reviews, but I can't tell you enough how he is one of my favorite people at a convention - and for some reason he was even more amusing this weekend. He even brought his screwdriver to do his amazing jim rose side show trick. (The look on Jen's face was priceless). I also ran into part of the Fantasm Crew (Chris and Roger) and they were also up for a little French Quarter action.
The plan was to get dressed and go out to the French Quarter since the convention didn't happen until Friday. Somehow we got our wires crossed with MsBtch (the one person I thought would be all up for a party) and Tiger Lily and Kpral didn't want to hang out with us and because of this silly misunderstanding - they blew us off for the entire weekend and missed a really good time. Perhaps at Fantasm we can all get together.

random shots in the Quarter - you will notice a theme of how there is never not a drink in my hand or a smile on everyone's face (especially Jen)
So we have a few beers and then we walk to Bourbon Street which is three blocks over. Jen was wearing her tiger print pants and a black sequin shirt so I matched her by wearing my sparkly gown. We looked so fabulous :) Jen was really worried over not knowing what to bring and to wear for this con, and I think she did excellent for her first time at one without knowing what to expect.
The first thing we do is grab a Hurricane Clone - I chose to get the Blue Crack one. What a yummy treat! However, that's a dangerous thing as you don't think about it being jam packed with all that alcohol. Also, it's hard to look stunning with a blue koolaid mustache and blue teeth. So I pawned my drink off on the Reverend (who glowered at me for not taking it back), and settled on drinking beer and eventually hand grenades (Twist soon took over my hand grenade for me - without my permission).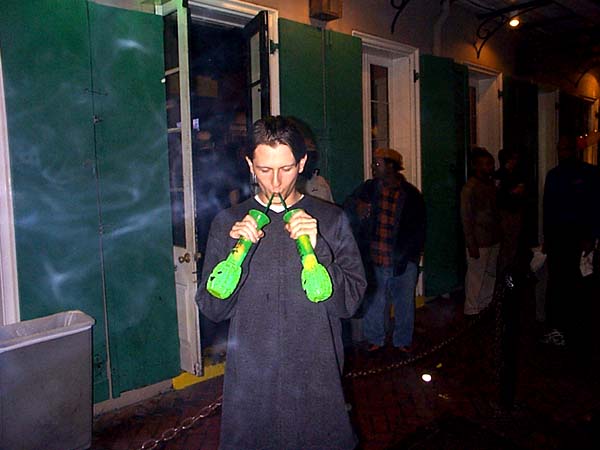 Twistopher is last seen that evening double fisting his way to the hotel
I saw a sign for palm reading and had mine done. It was not what I expected. She was a 50 something bored divorcee type who smoked cigarrettes non stop and had the voice of cancer when she talked. I asked her of my love life and what was to become of it and she told me some really interesting things that made me giggle incessantly (i.e. if I don't back off of hottie art teacher, I will scare him away and that he is comparing me to his ex-wife - oh great). Jen came with me to make sure I sat up vertical and didn't talk to much (whoops).
While getting more hand grenades, Jen found some new dancing partners. It's amazing the confidence we all gained when there is more alcohol than blood in your system.
Jen and I returned to find that our hand grenades had been sucked down by Twist who was also giggling and trying to remain upright. We went to the Dungeon where I showed them it was a pretty lame place to be as compared to the outside (you can't beat drag queens and women holding signs with the words "wash the girl of your choice"). It was there that we lost Twistopher to the masses and we never saw him again until we got back to the hotel (how he made it to the hotel I don't have a clue).
We were really plowed at this point and I remember that me and Jen saw this woman all by herself and took it upon ourselves to make her feel better by listening to her sob story and then after realizing that she wet her pants - we hurried off in horror. Ugh! We also got stopped at one point by the crowd for us to take off our tops. You know, there is never a time that I am so messed up that i will show my boobs to the crowd for a chinsy piece of jewelry, but Jen was already all about taking off her top at that point, though. Since we seemed to be the only women in the crowd at that time and they wouldn't take no for an answer - an idea popped into my head and I shouted back "I'm a man!" and was instantly dismissed from tit flashing duty. Suckers.

| | |
| --- | --- |
| | |
| I couldn't save Jen from her desire of needing beads | Circlek looks like he is about to punch me. |
I remember that I was having trouble walking at this point and i decided to sit (prone) for a bit on the street. And that's when CircleK decided to "pose" with me. He has that pic on his site as I refuse to post something that looks like a scene from what happens when you take the date rape drug at a frat house. It is a funny pic though.
We finally get back to the hotel where Rob reminds me that we promised to pick up Wes and Stephanie in about 4 hours. Ugh! So I kicked everyone out of my room and got my 3 hours of sleep before i was woken up by the Reverend (this man never seems to sleep) and got a phone call from Rob. I kept Rob awake by being my usual chatty self (it's amazing none of these people used some sort of implement to shut me up) and making him laugh. He made me laugh too throughout this whole con.
| | |
| --- | --- |
| | |
| This is Stephanie sporting her new corset. | This is Steve looking like he can't see and like part of the cast of "Eyes Wide Shut" |
We picked up Stephanie and Wes and since Steve had not yet shown up - I let them crash in my room. I spent the afternoon hanging out and napping in Twist's and CircleK's room where we had a fine time cracking jokes at the TV and waiting for registration to open. ("Do I sound Breezy?")Around four o'clock, (and after Stephanie's 30 minute shower) we are off to the registration line to get our badges. I am a guest and don't need to wait in line - but all my friends are in line, and I would just be waiting on them. I ran into Jose and Warren who were waiting on someone to share a room with. But that person apparently never showed up (hahahahahahahaha) so after telling them of our cool time in the quarter the nite before, they were gonna hang out with us that nite.
We had a really good dinner at the Acme Oyster Bar (and they even had a webcam outside while we were waiting - it just goes to show you I can never truly leave the cam) where CircleK and I had one of those Life Cereal Commercial moments where we thought we ordered something good but it looked like they scooped it from the gutter outside on to our plates. I lost the game and CircleK waited on me to eat it before he would stop probing it with his spoon. Coward. It turned out to be pretty good except for that one wavering moment where I found a whole crab claw in my soup and thought that it might be a mistake and from another person's leftovers. But then I saw another one and figured they were ok to at least set aside and continued eating (i had to think about it before I ate them). I dont' think CircleK even ate those. He wasn't taking any chances.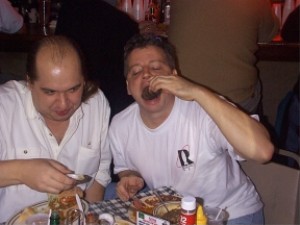 Rob convinced Wes to try oysters (again).
After dinner it was time for me to get ready for my coronation (if you haven't figure it out by now, I am queen every year. It's just that I get pushed back farther to the front of the line). I wore a stunning gown of silver sequins and beads (Thank you Latex Geisha for all the cool gowns you provided me this weekend), my white wig and of course my newly purchased Pretty Pretty Princess crown from Wal-Mart. Jose and Warren came over to my room so that Jose could pick out some music for his costume display on Saturday nite. I helped Stephanie pick out her outfit to wear as well as a wig to complete it. She looked so sassy. Jen needed no help from me - she had this dressing up thing down pat.

| | |
| --- | --- |
| | |
| Here I am with Charles (director of CoastCon) who led me down the aisle at the coronation. The girl in black made sure I didnt' wobble when i walked :) | Here I am with King Alfred posing for CircleK's magazine. |
After two good bourbon and cokes later, I hurried down to the ballroom where I met up with Alfred (King ExotiCon I) who was busy putting people in their order and really freaking out over the latest edition to our crew - the Grand Poobah. Apparently, the Grand Poobah had had lots to drink and someone thought it a good idea to give him a microphone. He wouldn't get off the stage and no one thought to just unplug the microphone. He was ranting and hollering and having a fine time before Alfred finally sequestered him someplace where he couldnt' annoy others.

| | |
| --- | --- |
| | |
| Here I am again parading around with King Alfred and Nina the Porn Star. | Here Jen drags me away to the body shot party in the hall. |
Once again, Alfred produced a flawless coronation. I was announced and I paraded around smirking in my manically upswing mood (it tends to really show when I go to the cons - i get unbearably happy and hyper) and then I sat down on the stage next to this stunning woman. I asked who she was and i was floored when she was so blunt. "My name is Nina, and I am a porn star." What do you say to something like that? I had a million things I could say (ranging from nice to funny to "no way")but kept them to myself as I did value my health and she was taller than me and had more spike to her heel. We had a brief conversation while on the stage and in the middle of the coronation (our walk was over and so we thought we could get away with that). She turned out to be really cool and even did a photo session with CircleK (but I will let him tell you of that "adventure" as I wasn't there for that experience).

Wes, Stephanie and Jen.. I just really like the look of anguish on Wes' face here.

Stephanie and Jen waiting patiently for me to stop being queenie so we can get some more alcohol
CircleK (I think he is laughing) and Twist looking rather shocked (this seems to be a running theme for Twist.
After the coronation was over, Bonnie and Steve showed up bearing gifts of shooters to be done as body shots with whip cream. We threw a small party right there outside the ballroom. And what was way cool was when Warren wanted to do a body shot off of me. Why is that cool? He is gay and could have done one off of Jose, but chose to do one off of me instead. I felt so priveleged!

| | |
| --- | --- |
| | |
| Jen and Stephanie make the most of the body shot party | Stephanie, Christine and I right before we hit the Quarter that nite. |
Then Wes had this great idea that we should go back to the Quarter again. So I went upstairs and got changed into my black vinyl dress complete with my light blue wig and my black vinyl gloves. Jason and Christine decided to join our party as well. I have known them for a while and Christine and I rarely get to hang out as we are usually mad at each other - so this was an unusual occurence that we wanted to take full advantage of before we put ourselves in bitch mode again.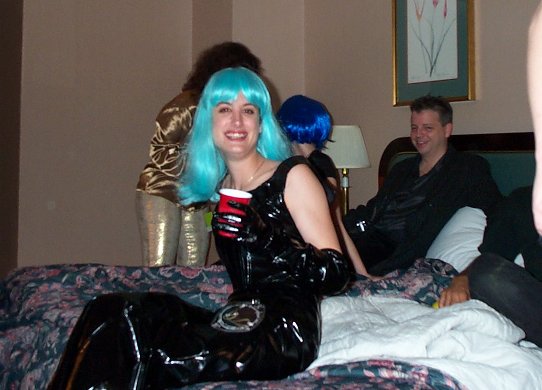 Here I am waiting to leave for the quarter - note wes is just as trashed as I am and that this is as straight as my wig is going to be this evening
We had a great time partying and getting absolutely trashed at this gay bar and I dont' remember a lot of it. I do know that a very nice bouncer man helped me find a bathroom that wasn't being used cuz the ladies room was full (I am not sure why he didn't just let me wait). I also know that I had a really good time getting in trouble there (sorry - that's all I am telling). After we spent what CircleK will tell you is a really long time at the bar, we went to Krystals and then went back to the hotel. We all hung out at my room for a bit and then i kicked everyone out as Jose and I were going to play ExotiCon Survivor the next day and I needed my rest. Twistopher came back to borrow my power cord for his laptop and i must have fallen asleep cuz I don't remember him leaving and I woke up to the sound of Jen on the phone saying "aren't you supposed to be somewhere?"

| | |
| --- | --- |
| | |
| CircleK learns an important lesson - don't hang out with drunk people unless you drink yourself - or else it's really boring. | C'mon.. you knew we had to take a pic of this woman's condom head with Jason |
I hate waking up like that. I am in a rush trying to get fabulous in less than ten minutes without the help of caffeine.The Reverend wasn't even there to prod me along with finding all the clothes that I exploded around my room. He had left the previous morning for a weddding (and drove 8 hours to get there) and was planning on being back around 10pm on Saturday. Then I call Jose who tells me that it was yesterday for ExotiCon Survivor and I was speeding along for no reason.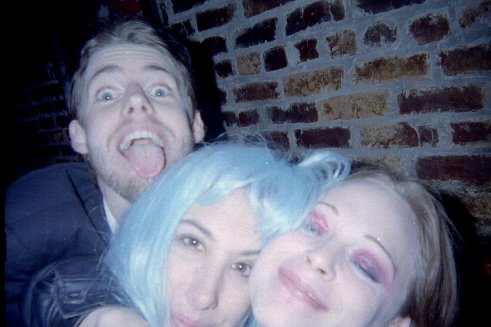 Jason, I and Christine - at this point - I might as well lose the wig - it is not gonna stay.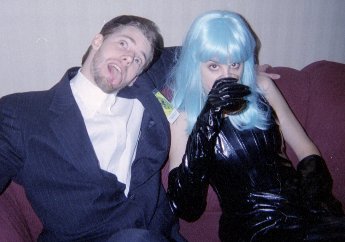 Me and Jason prepare for the quarter - him doing his goofy faces and me wiht my bourbon and coke
We all went to lunch at a place called Mother's. People who tell me that Alabama is backwards and crazy need to go to this restaurant. It's cold and rainy and we are standing outside of this place waiting to go in. We are told by this man that we need to follow certain rules on getting in line and ordering and looking for a table - it reminded me of Seinfeld's "Soup Nazi" and my own experience with the "Swing Nazi." If that wasn't bad enough, after he finds out that I am from Alabama, he proceeds to sing to us all of these Elvis songs (including the one that's in Mexican) and then shows us a picture of him before he looked like he ate a cow and melted his skin off and became older than dirt itself. He looked really good in his picture and I wonder what happened to him to make him look the way he did now. Anyway, nothing could have prepared us for the wackyness that awaited us in the dining room. There were lines going in three different directions and two of them were running into the third one. You couldn't get a table unless you had food in your hands and it was run like a mosh pit with people stepping all over themselves trying to get a table and trying not to get knocked down.
Afterwards we went back to the hotel where I found Mystrys at the slave auction gathering people to let them know when the cam panel was. I figured it was cancelled since a certain cam girl was so callous in not letting anyone know she wouldn't be showing up to run the panel. While I was at the auction a sweet little seventeen year old drag queen passed me on his way to being sold. His friend was helping him put the last accessories on, but he lacked something. He lacked a colorful wig and I offered up my own pink one. Perfect. However, he ran off with my wig and on Sunday told me that a friend of his had packed it up by mistake. He had better bring it back or send it to me. I am bigger than him and will hunt him down next time I see him. He seemed suitably upset and fearful of certain extremities I might harm on him. I hope he is reading this.

| | |
| --- | --- |
| | |
| apparently while I wasn't looking - Twist decides to don my wig.. i think it's his color.. | Have you seen this man? he has my wig and I want it back. |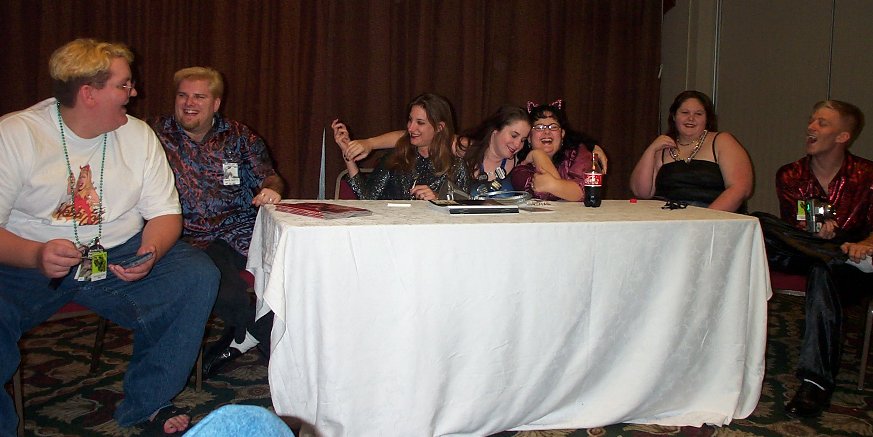 Here we all are at the cam panel: L to R: Bear, CircleK, Me, Mystrys, JenX, AngelKist, and Keefer.
I got dressed for the cam panel (I actually wore the same outfit twice and put on the sparkly gown) and at the last minute remembered that even though I got a B in Speech class - i suck terribly at public speaking. I really felt like I talked too fast and too low, and at this point I was losing my voice from all the fun this weekend. I got a few laughs, but I really feel this is something I need to work on.
Everyone else on the panel was great (JenX, Bear, Angelkist, Mystrys, CircleK, and Keefer). One of the more funnier moments was when Bear was chastised by Mystrys about something and Bear decided he was going to moon her. Unfortunately, had he done that (he didn't - he was just goofing around) I would have been punished too. Thanx so much Bear. One of the more trying times (dead air) was when I stupidly brought up LiveJournal and was ragged on by the other cammers on some of my candid posts that I put in there (there is a reason I made my journal "friends only" and it wasn't so we could blast out my thoughts to unaware bystanders). But it was really funny and that was one of the better laughs I got and I am really not that upset when I get down to it. I have had worse moments.

| | |
| --- | --- |
| | |
| CircleK helped me destress by making me laugh before the panel. | Here I am with Tonya (Miss February) signing our calendars. |
Did I mention I am in a calendar? Fantasm and Exoticon both put together this great calendar where I was named Miss December. (You can buy a copy of it here) After the panel was over, Mystrys (she is Miss March) brought me down to the dealer's room where we had a signing of the calendars. I can't express how important you can feel when people wait in line for your autograph. I felt so Diva - ish. We sold quite a few of them. While I was signing, CircleK came up to me and handed me this bag of goodies and explained a fan wanted me to have them. I got this really keen voodoo doll and a set of beads (and I didn't have to flash for them). I would have liked to thank this man in person (he knows who he is). If anyone out there comes to these things and would like to meet me - don't come all that way and get shy on me - I like meeting people.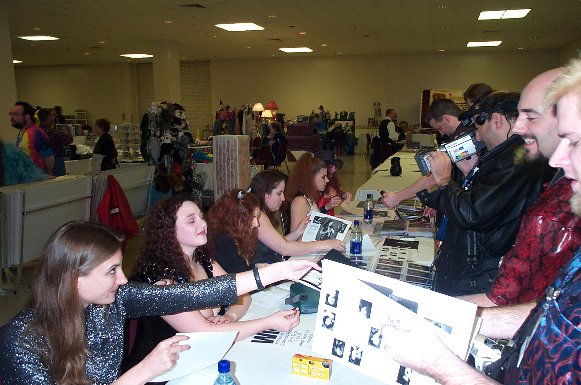 Here we all are at the Dealer's Room signing calendars. I think that man in red looks entirely too pleased.
Then we all had dinner at the hotel restaurant and Wes brought a game, Ra, for us to play while we ate. I liked it a lot and we got to shout out "RAHHH" and annoyed many a patron while we played. After Twist won, we went upstairs so I could get changed into the premier outfit of this con - my dalmation fur outfit. (Many thanx to the WyerdSysters for making it for me) I like to think of it as something Jackie-O would wear, except that I doubt she would don doggie hair and I am taller. About this time the Reverend came back and played bartender for all of us.

| | |
| --- | --- |
| Me with the Dalmation outfit | CircleK and I doing our prom picture |
| Me and the Reverend with our Prom Picture | Me eyeing Jen's whip in fear. |
| Warren Took first place with this Andy Warhol look (he even had the polaroid camera) | Jose and his awesome body paint job as the Devil :) You should have seen him dance. |
We arrived at the costume contest a bit late, but just in time to see Jose do his devil dance and Warren do his Andy Warhol impression. They took first and second place. They were so elated. After we got group pics with everyone (including vortex's (robert) groovy Dark Angel costume), we were told of a secret Fantasm party in the freak room and were told not to tell anyone.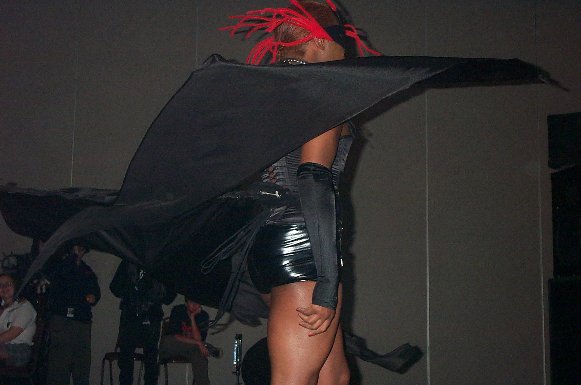 Vortex (Robert) and his amazing Dark Angel outfit - those wings must have been really hard to deal with in the elevators.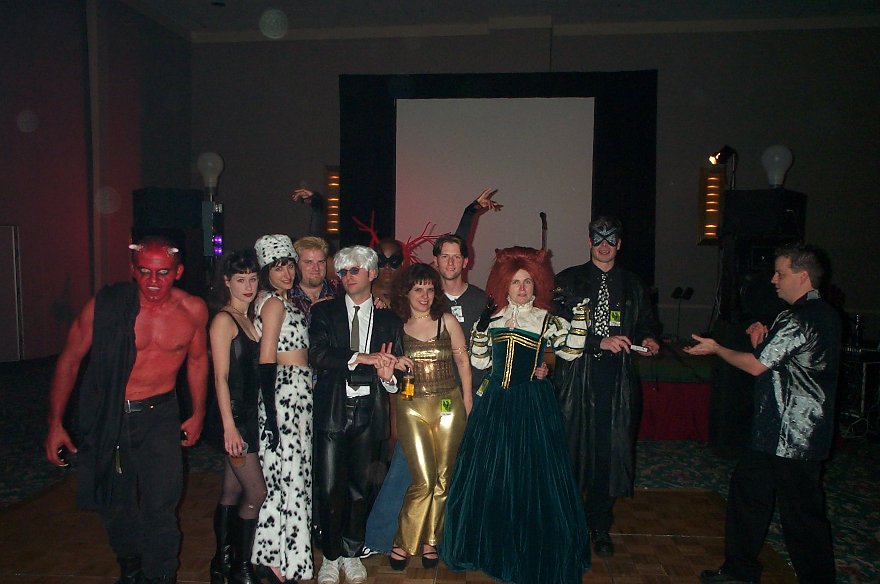 This was taken right after the costume contest - L to R Jose, Stephanie, Me, CircleK, Warren, Vortex, Jen, Twist, unidentified costume contestant, Steve (Yakdog) and Wes who is desperately motioning to Steve that he wants his camera back NOW!

| | |
| --- | --- |
| | |
| Jester Fred and I waiting on a drink from the Reverend | Steve is right, you really can make new friends with that kind of shot belt on your person. I know this one is out of place and needs to be up top somwhere - but this was added in at the last minute |
How exciting! Even Jester Fred said that there weren't anymore secret big parties where you had to be in the know or know someone in the know to get in. Then he proceeded to tell me why (which included the happenings of that party), but we won't get into that here. A lot of strange things happened in the room , and one of them was when this guy (who I later found out was Bill Blair) had nothing on but a really tiny itty bitty thong. I was halfway shocked as most of the time it's the gals that go all out. At one point, I couldn't talk to him without blatantly staring, so I would excuse myself and find Steve, who is always a good rock to turn to when you are at a loss for words. Bill turned out to be a really funny guy and we exchanged cards at the closing ceremonies and I even ran into him at the airport as I was leaving. Bonnie broke out this weird pink shocker thingy and was having a great time teasing many a patron of the party. A girl (and her name escapes me) did a really neat interpretive dance for the crowd. The bar was full and it ended up to be THE place to be.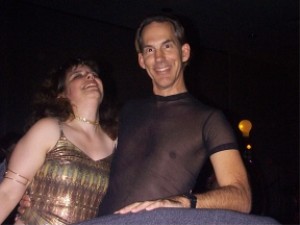 Jen poses with Bill Blair before he got into his ... umm.. costume.:)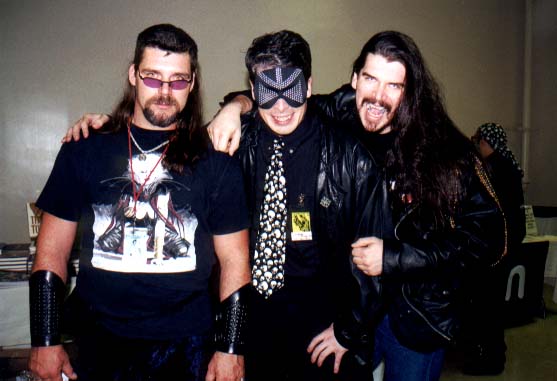 Bruce, Steve and Greyson Wolf. The two on the ends are brothers :)
However, I love to wander and so i went downstairs to see if there was any Reanimator Fluid to be had. I was not surprised to see the blessing of the Way of Russ going on and received the communion from Taras (the slave auctioneer) and got my plastic cup of gatorade and pure grain alcohol. (I am not making this up - this is one of their traditions and if you want alcohol - you go along with the hokey ceremony).

| | |
| --- | --- |
| | |
| Jose, Jen and I dont' know who that is. | Jen, me and Stephanie with the rarely seen but always appreciated Circlek as the French catholic school girl |
I went back to the party and I know that there was even more going on there then I really care to tell - as I want to protect the innocent and the trashed (and myself from the onslaught of email) but you really had to be there to get the full effect. CircleK and I spotted Twist on the floor and decided it was time for him to be grounded to his room to save him from himself. Why we chose me for that job was really stupid if they were trying to protect him from wicked ways - but I smiled and smirked as I toted him off.

| | |
| --- | --- |
| Robert and I being fabulous :) | Random pic of Wes, Stephanie, me, Twist and a smidgen of Jen's face. |
| Random pic of Christine showing us one of her better costumes | Warren and Jose being entirely too cute. |
Some time later I went back to the party to socialize but was really tired at this point. I did have to get up to pack in the morning, so I grabbed the Reverend and we retired for the evening. The Reverend was so sweet and had lunch with Jen, Rob and I at the hotel the next day and helped me with the whole packing process including taking me to the airport. He was even so nice that he gave my pal Tom Green (that's for your boss, Tom) a ride all the way to Alabama that same evening after he dropped me off.
I was greeted by my parents at the airport in Birmingham and wanted to tell them everything, but alas, my voice had all but disappeared and after I showed mom the calendar I was in, she was less than pleased. Apparently she doesn't think i look good in just a black feather boa and a smirk.

I learned that not all Canadians are schmucks, and can cut you down just as easily. I learned that fake fights with the Reverend are highly amusing to ourselves and even more amusing when others think we are really mad at each other (it's our new fight club activity). I learned that I need to reassess certain situations when alcohol is involved and that I am not as aware as I think I am. I also learned that just because you are the top guest at the con, doesn't mean you look good when you are messed up on substances. And last but not certainly not least, I learned that it is a fabulous thing to trade in the older model for the newer younger model (smirk).

Of course a big thank you goes out to Dave Collette and his crew for putting on a good show - I know it wasn't your fault the hotel sucked in way of being "lenient" - you can bet that the new people we brought will be coming back next year.
The Reverend for his fabulous efforts to make me organized and failing miserably yet making me laugh uncontrollably; Jen for her fabulous sense of fashion and that you made me feel like we had been friends for years.; Rob for being the airport limo for some of us and keeping his promise of making me laugh non-stop when the Reverend wasn't around and for letting me use some of his pics; Taras for his ability to yell out "C'mon, you know you want it" several million times and making it funny each time as well as flirting with me at the ballroom; Mystrys for her excellent execution of the cam panel on absolutely no notice; Latex Geisha - who wasn't there - but supplied the majority of my outfits for the weekend; Wes for keeping me level headed and making sure I stay grounded; Stephanie for trusting Wes and I and coming down to experience this; Twist and he knows why and for the use of his pics; CircleK for being a really cool porn photographer and not one of the ones that wants you to "trust him like he is your doctor" - also thanking him for bringing Twist and for making "Do I sound Breezy" our personal joke for the weekend and for the use of his pics; Jester Fred for coming out and mocking everyone in his little way; Steve for being my rock and for introducing me to this con experience ten years ago; Vortex for coming out on a moment's notice and not kicking my ass; Jose for being so honest with me and hanging out with all of us; Warren for doing the body shot off of me and making me feel pretty;Alfred for putting on another great coronation despite it's contamination of alcohol; and of course my mother - for not questioning anything that's on this review.
Other reviews and pics of this con:
My personal collection of LiveJournal posts and pics from other people.
Wes' pics with Circlek's captions
Jose's (from organichispanic.com) review
Yakdog's (Steve) Exoticon Drinking Journal - this is a downloaded word document
Jen and Rob's Exciting ExotiCon Review


That's all for this review.. I will put up more people's reviews as I get the links for them - so send them in. My next con will be at Chattacon - which is not as exciting (New Orleans is kinda tough to beat), but certainly fun with the right people.