---
May 12-14, 2000

Mobile, Alabama
---
I attended MobiCon 2000 in Mobile, Alabama last weekend. It was mainly a gaming convention and not so much a media con, and was one of the smallest I have attended. However, I still had a great time and the people I encountered were some of the friendliest I have seen at a con. I even made some money there selling my pics - the most I had ever made at a convention.
There aren't very many stories to tell here as it was pretty laid back. I got to hang with Jack Stauffer as we were some of the only guests there and had our fan tables set up next to each other. Jonathan had his table set up as well with all his ghoulish special effects work. I had both cams going when I was at the dealer's room. One was set up on me and the other was set up on the table across from me taking pics of people at random as they walked by. I even had a guy on chat view a sword on the table and he requested a catalog be sent to him.
| | |
| --- | --- |
| Me and Jack Stauffer from Battlestar Galactica | Jonathan chokes me with filet o' hand |
We also went out to eat while we were there to a place called The Oyster Bar. The most noteworth fact about the place was that it had a huge shark bursting from the roof gaping at mouth. It didn't have teeth though, so the scare effect was not as good on me as it would have been :) We did have fabulous food there and a good tiime ribbing Jack about the fact that not only was his shrimp difficult to peel (you almost needed crow bars) it also stared at him through the whole meal. Some of us took pity on him and traded the shrimp that could have been a small pet for shrimp he could actually consume.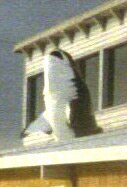 All of the partying revolved around the pool area and there were even a group of guys motivated enough to grab their turntables and spin for most of Saturday evening - of course all music I requested was either never heard of before, at the house, or I couldn't sing it well enough for them to figure it out.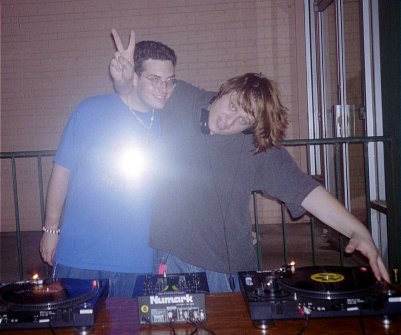 Brian and David - and some weird light that emits from them when a pic is taken :)
One of the big partiers on the scene was Baby Marine. Here was a man that knew alcohol very well - and proceeded to consume everything liquid that was put in front of him. He did answer all my questions no matter how inane and luckily had a chaperone to watch over him - as he really shouldn't have be drinking until after July 2001.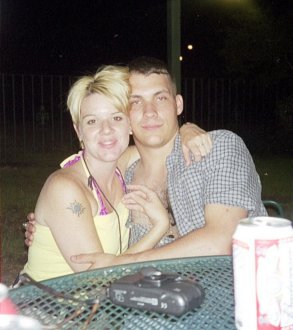 cindy (another cool chick) and baby marine
Baby Marine also commited some cardinal sin of spilling a ton of beer (which really isn't a sin if you ask me - its more like just ruining the carpet needlessly - beer isn't that important) and was then asked by the peanut gallery what would be an appropriate punishment. Of course I couldn't keep my mouth shut and suggested him getting thrown into the pool. They actally took my advice as shown by the pics.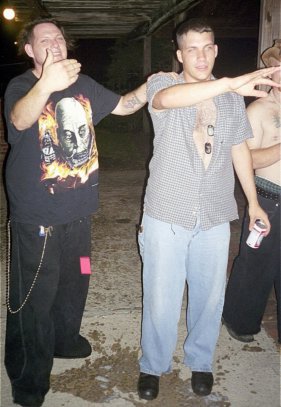 Here Christian catches baby marine and his "accident"
Baby gets down to his skivvies....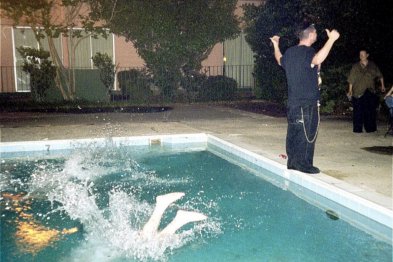 ...and then the deed is done - thrilling i know.
Anyway.. I ended the evening at 2:30am as I had a six hour drive ahead of me - alone - and even I can't amuse myself with random thoughts about nothing and stay awake. So I bid everyone good bye and told them I might see them next year.
Well that's my review. I would like to thank Kim and Dave for putting me up and having me as a guest - they were very friendly and made me feel very welcome. I also want to thank Christian for making sure my drink was never empty - and was full of bourbon. I would also like to thank Cindy (and her pal that I can't remember the name of right now) who made sure I knew where the parties where so as not to drink alone. I am also glad that no one showed up to ANY of the panels (besides Jonathan's cool-a-roo special effects panel) so I was let off the hook having to talk.
What did I learn this weekend?
I learned that I feel old when meeting someone born in the eighties and will try to avoid that as much as possible, that even if a con is small - it can still be fun - it just takes a lot of effort on everyone's part, and that books on tape rock this universe for long car rides and I will be partaking of them again when I go to Atlanta (thanx mom).
Here are some more pics of the con: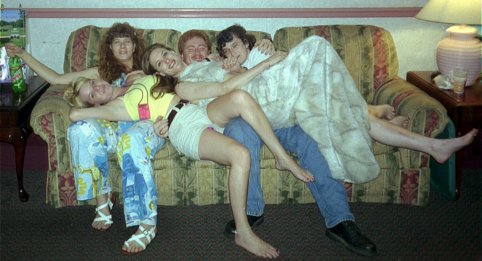 Check me out next time when I will be attending TachyCon in Orlando Florida May 26 - 29, 2000. I will have my cam there and will be broadcasting live. Hopefully Lily and Lone Feather will be able to make it as well and bring their cams :)