April 12-15, 2001
I am gonna let you know right now that there are over 60 pictures I took (the Sony gods smiled upon my camera and let it work so that I don't have some embarrassing excuse as to why I came back empty-handed) that have to load so get a sandwich or something - this will be awhile)
Fantasm was last weekend (April 12-15, 2001) and it's one of the more fetishy/sex/fantasy/costume cons as well as the one that is growing the fastest each year. I feel privileged that I was in on the ground floor when attending the first one and that I knew the directors before this con was a spark in their brain. This convention was fabulous and to those that missed it - you truly missed a fine time. A lot of good things happened there - they had a very good turn out for the Play Party, the cam panel went off without a hitch and I don't think there was any point at the con that I wasn't smiling or laughing. Big thumbs up from me.
I of course start out the con running rampant (like a mad dog tearing through garbage), trying to get things jammed into my suitcase (with minimal duct tape use) and get the little problems fixed (like getting my eyebrows waxed) down to the very last second of time before I need to run out the door. But this time was different. This time I had a vast pit that my mother bought for me for my birthday posing as a suitcase. I swear it held everything and I could have probably used it to move a body as well. I was more than pleased when I got to leave the old 70's luggage and duct tape behind.
Wes, however, was less than pleased. My suitcase took up almost the entire trunk space and so his and Stephanie's (Bardiva) luggage had to be crammed in every nook and cranny available. No matter. It's my car and they can deal with it. So Wes spent the better part of 3 hours crammed in less than half of the backseat to accommodate all of our stuff. (Sorry about that Wes).
We get there around 7pm and made plans with Farshad (and his entourage) to go to a nearby sushi place. I won't bore you with details of food - I just really liked the company we were with and wanted to mention it here. Afterwards we got dressed for the Pajama Party. Wouldn't you know it, our pal Pam decided not to flake on us (we had bets going) and she ran into me on the party floor as I was going to my room. Yay. While hanging out in Wes' room we got a call from Dwayne (Thorny) who had also made it from Huntsville. Everyone we invited out made it. Coolies.
| | |
| --- | --- |
| | |
| Stephanie, Pam and I - looking fab | Vortex pops his head in at the last second - Shelley looks fabulous as a playboy bunny. |
We had a grand time at the party. We all got really plowed and Dwayne and Pam seemed to be having a really cool time (this was their first convention). I had a lot of drinks in me and unfortunately forgot to read the program book. I had no idea I was scheduled for Twisted Bedtime Stories that nite and was regretting the numerous bourbon and cokes I had drank that evening. Dave Newton even had my favorite twisted story (No Milk and Cookies) for me to read, too. Dave was going to cancel - but since I hate flaking on things, decided to give it a go. Little did I know that fate stepped in and instead of me talking a mile a minute (which is what usually happens normally and more so when having to speak to a crowd), the bourbon slowed me down and everyone had a good time for the readings.
| | |
| --- | --- |
| | |
| Christine shares a moment with the Rev - Rev looks like he could care less | Fred and Miss Fantasm 2000, Zoe. Fred is the other part of Shelley's Duo as Hugh Hefner |
Mike Polyester (aka Brad Dude) also made it in time for the Pajama Party and had a few activities planned. The Wheel of Humiliation was a really cool gimmick. A lucky group of people would spin the wheel (or rather unlucky as some would view it) and have to do some erotic dare. Of course the wheel would be spun and it wouldn't matter what number it landed on - Mike Polyester already knew what task he would give out beforehand. Pam got in on the fun and was even a kissing judge for one of the "events."
Tat2Rob was plowed enough on the balcony to show me his tattoos
I hung out with a lot of people that nite - and when the party wound down - I decided to see who was still up on my side of the balcony (the balcony went all around the hotel so everyone "shared" a balcony). I saw a few lights on and just invited myself in to one of the Bendavhos (Tim's) rooms. He had a small gathering of people and was still serving alcohol so I joined right in. After getting more plowed, meeting some nice people who went with me to the store to get goodies (and put up with my drunken weirdness) and trying to stop some drama from happening with a couple I know - I went to bed (was kicked from the room in a friendly way) and didn't get up till 2pm the next day.


These are the people that put up with me in the wee hours of Friday Morning.
I got dressed in my Beverly hills garden party dress and made my way downstairs to see what was going on. The Scavenger Hunt was in full effect and it seemed that I had a few items with me that everyone kept on asking for (webcams, wigs, autographs and actions), so I pretty much stayed in the item drop off room until the kick off party. Stephanie and Pam's team won five free passes to Fantasm next year (so now Pam is roped into going again). The losers of the Scavenger Hunt had to do a lap dance on each other and Jose did a fabulous job in my opinion. It was almost as if he had done this before (hmmmmmm). While Wes and I were waiting to be "counted" in the line up of items.


Jose shows off his lap dancing skills


Steve (yakdog) got all the guests together and we introduced ourselves. I don't think Stephanie was expecting to speak (I know I wasn't), but she didn't seem nervous at all. Then Steve hosted the dice game to see what prizes people would win. Everyone wanted to win the spanking from Bonnie - but only one lucky guy got that "punishment."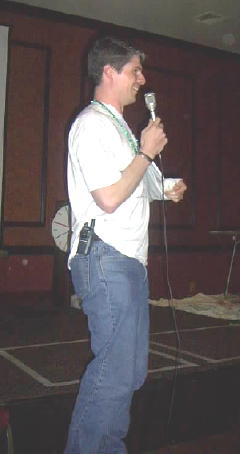 Steve did very well as a host.
Afterwards, I convinced Mystrys and Cloei to ditch the calendar signing and met up with Wes, Stephanie, Circlek, Twist, Girl, PlasticBob, the Reverend, Jodilyn, Jose, Tat2Rob, Yakdog and a lot of other people in LJ land that are too numerous to count over at Chevy's - a Mexican Restaurant. Since Stephanie, Mystrys, and myself wanted to get to the Concoction Contest on time - we booked out of there around 8:30. I so liked meeting PlasticBob and Jodilyn. They were the coolest and PlasticBob has such a way with wearing napkins as a fashion statement (I hope someone sends me that picture). I tried convincing them to come to the parties - but they were set on going clubbing to clubs that would be open ANYTIME (end rant here).
| | |
| --- | --- |
| | |
| Ziggy had a deadly drink as you couldn't taste the everclear | I also liked the sweetness of the Georgia Peach Drink |
I got dressed into my Dalmatian outfit and Stephanie was taking her usual amount of three hours to get ready so I went down without her to the ballroom. There were 12 drinks to be sampled and a line to get in. I wish the first drink wasn't so wretched. I hate starting a tasting with a throat on fire. It ended up being the worst one there. I liked the Georgia Peach drink, Ziggy's Blue Stuff, and The Bendavho's pink smoky drink (they ended up being the winners).

| | |
| --- | --- |
| | |
| Fred was serving some sort of Electric Grapes and Pimpdaddy had something that resembled a urine specimen | I don't remember their drink too much - I just remember I liked the presentation of their swill |

The Bendavho tribe mixes a winning concoction complete with dry ice.
While in line I ran into EVERYONE. Jose was already hanging out with me that evening as soon as I got there. Sasha and Anastasia grabbed me immediately to introduce them to their pals. I already knew Mighty Afro Whitey and Sophia LoRent from the Boybutante Ball - so they needed no introduction. However, I had no idea that they had visited my site to see the Girl - Not a Girl section from a previous Boy Ball I had attended. How cool is that?

| | |
| --- | --- |
| | |
| Sasha and Anastasia always looking fabulous | .. and I am so glad they brought Sophia LoRent and Mighty Afro Whitey |

Sophia LoRent hams it up before going on stage for the Drag Review.
I also ran into all the MOC people. Since I have been unbanned and the evil king of Roland was overthrown - they were now able to attend other conventions. They even had a party the next night to promote MOC. I saw people I hadn't been able to see in quite some time and was happy that they made it. Lissy, Darlene, Connie, Greg, the combat grannies, and Deidre were there (to name just a few).
| | |
| --- | --- |
| | |
| Bonnie - one of the Directors of Fantasm sports her new dreads look. | Fred and Shelley - Fred is sporting a new hat made by Shelley |
Then this camera crew came out of no where (Homepage Films) and wanted to follow me around the con while I partied. They did this for a while (Jose's quote of "Oh, so this like Madonna's Truth or Dare" cracked me up) but at the time they were filming me - not a whole lot was going on and they couldn't seem to keep up, so I never got a chance to do the interview. Oh well, they will probably use the footage they did get at least.

I don't know these people - I just liked their outfits.
Here are my obligatory naked pics of the con - I like the fact that the painted girl is guzzling beer :)
| | |
| --- | --- |
| | |
| Steve looking Fierce in a Suit | Some of the contestants backstage at the Miss Fantasm 2001 pageant |
| | |
| --- | --- |
| | |
| Vortex vogues for the camera | Zoe after she had been dethroned as Miss Fantasm - She still looks hot :) |
The Miss Fantasm Pageant was next, and I loved how Steve Wilde and Sasha were able to play off of each other. (Sasha also enjoyed taking digs at me publicly while waiting for contestants to be announced). One of my favorite contestants was a girl that did a stand up routine of how her fantasy was to be a dog trainer -but she had no dog so she made someone in the audience be a dog for her. I am sorry she didn't win - but it's always the naked people that get the votes.

| | |
| --- | --- |
| | |
| Myself and Tracey pose at the party | And then the party filled up so fast I vacated to the hallway and got my pic taken with an unnamed Jonestown member and Dave (Vera). I didn't see too much of Dave this weekend. |
| | |
| --- | --- |
| | |
| I can't believe they convinced Earl to wear that.. yeah I can. | Reverend did an excellent job bartending the party. |
| | |
| --- | --- |
| | |
| Jason in the middle of telling various party drama that seemed to follow him.. | Joe (of the consuite at DragonCon fame) and Kelley (of the Robot Wars at DragonCon fame) looking mighty plowed |
| | |
| --- | --- |
| | |
| Dwayne and Stephanie hanging out in my room. | Pam is severely trashed at this point. |
Later, I changed into my ivy bikini for the Jonestown Island Party. It was one of the only parties going so I hung out there a lot. While in the hallway, I met a really cool couple, Jim and Glampira (Ginger). We went back to my room and chatted for hours. Jim used to be in the band Grand Moff Tarkin (sp?) and Ginger was trying to start her own cam site. I had been a bit afraid to talk to her since she looked really goth - and goth people tend to not be very social if you don't know them that well. They were just as plowed as everyone else and I asked them to stay. I didn't want anyone driving drunk when I had an extra bed - that's just silly.

This is Glampira - and I had to get a pic of her cool tattoo of partying monkeys.
I couldn't sleep after they went to bed - so I headed out to the hallway to see if anyone was awake. There were a lot more people that stayed awake through the night then I thought. I ran into Tat2Rob and a cute couple (James and Kendra) who helped me pass the time while I got sleepy. I also ran into a lot of people in the lobby but I can't remember their names. They were fun to talk to though.

James and Kendra were awake when I wandered around... then I saw James' ear and I had to get a pic. You can fit a pencil through that thing.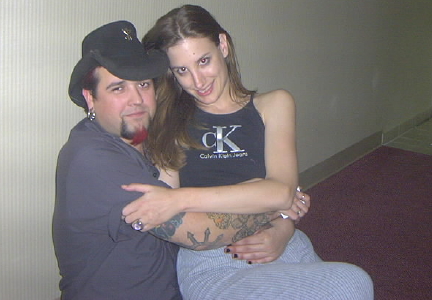 James took a pic of me and Tat2Rob - He always seemed to be always awake at this con
I guess I woke up around 3pm and missed Wes' panel (he missed my bedtime stories so I didn't feel so bad). I was just in time for the photo contest though, and Jose took pics of me and Stephanie. There is a really cool one of me, PlasticBob, Jodilyn, and Stephanie all pretending to be puking at the same time in the ladies room in the stalls. Classy.
I also managed to run into John Tackett, the director of guest relations at Dragon Con. After letting me know I had a table at the Walk of Fame - I asked him if I could not be placed next to Stalker Boy or any of his minions. He replied that Stalker Boy would not be making it to this convention as he had been asked not to come back. Apparently credentials do seem to mean something if you want to be a guest at dragon con and if yours don't add up (or in this case are non existent), you cannot ride this ride. I laughed my ass off at that one. Woo hoo.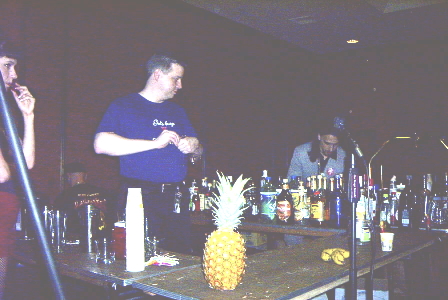 Wes sets up for the Iron Bartender Competition alongside Polyester Boy
I headed over to the Iron Bartender Competition (think Iron Chef - but with alcohol) where Wes and the Reverend were setting up a ton of alcohol. As I was sitting in the front row waiting for the show to start - Jester Fred, myself and Big Rob were announced as the judges. Stephanie, Wes and Reverend were the iron bartenders and Jim, Ziggy and some polyester clad dude that made us tasted like drano were the challengers. I figured this would be no big deal. Wrong. In less than an hour, I drank 20 dixie cups worth of stuff that would take the varnish out of your furniture and run my car. By the end of the game - none of the judges could even write any scores down much less think of scores. Jester Fred was especially amusing as we had to give our opinion when we tasted these "drinks." I was wobbling as I got up - but I had to leave to get dressed for the next event - the Slave Auction.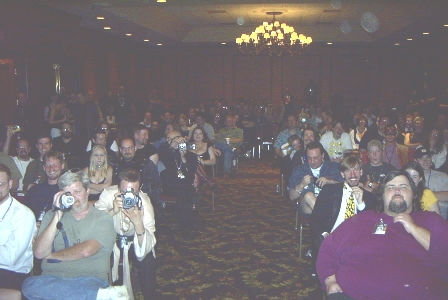 Even though I was plowed, I managed to take this while on stage at the slave auction.
By the grace of some higher power I was able to stumble to my room and get my outfit on (purple leopard print cave girl outfit) and then stumble back down to the ballroom. I could hardly stand by that time. I was holding on to people left and right and when I made it to the stage and was asked my talent - all I could say was that I was "just trying to stay vertical." Wes saved me from John Holmes buying me (a fate worse than death), but then said I had to pay him back one way or the other. Whatever, I just wanted to throw up somewhere.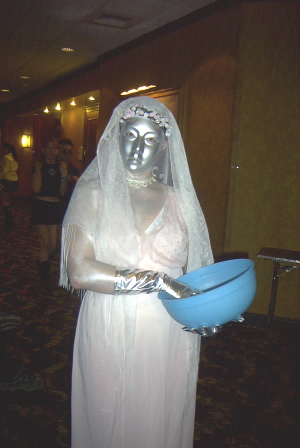 While waiting to get sold - the Easter Thingy came around with goodies in plastic eggs.
After visiting the Vomatorium (holding on to a toilet is so unglamorous and unfabulous - but it happens to the best of us), I was off to help set up with the cam panel (noticing a hurrying theme here?), I had bought a bra and thong set to go underneath this see through shift dress that my mother built for me. I put my white wig on and was ready to go downstairs (public speaking makes me ill - even more so with skimpy clothing - and putting on a wig makes me feel "protected" for some reason).
Wes did a great job of setting up. I didn't realize that my laptop would be the one used for the panel. Showing what's on your desktop to 100 people didn't really sink in until I saw it larger than life on the projector screen. (Good thing the porn folder was elsewhere). I tried desperately to put the panel on cam - but the gods weren't smiling and so we were only allowed to show it to the people in the audience.

Here were my views from the cam panel on the side and at the audience. We looked sharp.
The panel went fabulously as Wes was moderating (and doing a great job of impersonating Donahue) but you could tell what everyone was there for as the question and answer period died off immediately. They were here for the show of blacklights, fluorescent paints and thongs. I was really pleased that not once I felt out of place or uncomfortable (Baby and Cloei got topless and sometimes that makes me feel weird), and I warded off Cloei's subtle trick of trying to get me to take my top off (she almost had me too). Cloei even thanked me afterwards as she knew that cam shows weren't my thing. I thanked her for not making it something you would find on Cinemax.

And of course the other aftermath - the cameramen wanted this shot for some reason. I forgot to bend over so my ass wouldn't look quite as big. Forgive me.
Then it was time to scrub the paint off. On my way back to the room - I ran into SO MANY crossdressing straight men that were wanting to meet me. On the program book it literally announces my love for drag queens - and it paid off. I got pics to prove it.
Here were a few of the men that posed for me in drag.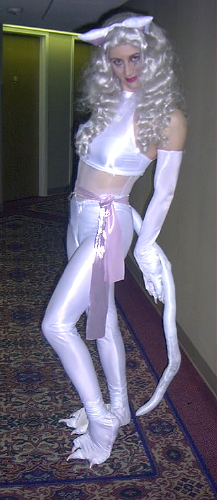 But this man was by far the best - what a cutie.
After trying to find someone in the hall to help me take the paint off my back (yes, I wandered the hall in my towel when I realized I couldn't reach my backside), I changed into my Belly Dancing Costume and went in search of the funny pair - PlasticBob and Jodilyn. They weren't too far away and we made the rounds through the parties. I had a very special time at one party and I wrote about it here. I never stopped laughing after that.
Here is the band

Sleazoid

- very entertaining - please note the 3 foot inflatable penis on the lead singer.
| | |
| --- | --- |
| | |
| Shawn and Jeff mixing awesome drinks | This is Jason - I had met him several eons ago at a dragon con - he is such a hottie. |
| | |
| --- | --- |
| | |
| Jose gets shocked at the Play Party | I met up with my fav drag queens again on Saturday Nite. I hated that Sophia LoRent was not in costume - it takes away the magic |
| | |
| --- | --- |
| | |
| | Ziggy poses with her ... umm.. friends. |
| | |
| --- | --- |
| | |
| Zoe looking Grunge Goth chic. | Ziggy and her dubious red liquid. |
PlasticBob and Jodilyn (as well as their brothers) were hanging out with me, Wes and stephanie for the most part. They were tons of fun and were naturals at dressing for a con and partying at one (yet they had never been to one nor had they gotten the handbook from me). I really hope they make it back to another one (and skip the clubbing this time).


GIRL, PlasticBob and Jodilyn looking tres chic and ready to drink. You should have felt PlasticBob's Skirt - it rocked.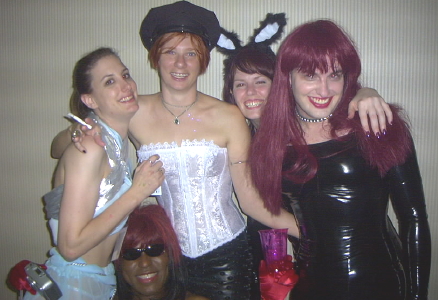 Myself, PlasticBob(with a new hat), Jodilyn, Thorny and Vortex at the bottom.
After downing various drinks and going to several parties and casting my vote (I was a party judge), I ran into some friends of mine at a secret party. after that - I can't tell you anything to protect the guilty :) I can say that the hosts of the party were very hospitable and they made me want to attend another one of their parties in the future - and that I met a really cute guy named Jameson. I did have a good time though and if mom is reading this - don't stress - it's all good.
I partied on till it was time to go home. After being made fun of for my drinking skills (or non skills), announcing the Bendovaho party as the winners, and finding out from Bonnie that we were sharing a VIP table at the Boybutante Ball next weekend - I headed home and crashed out for 12 hours.
What did I learn this weekend?
I Learned that not everything goes as planned - but it all works out in the end, don't drink twenty shots in an hour - no matter what the cause, that some goth looking girls really aren't goth - they just look that way, that I am improving on my name remembering abilities, that I want to find out where stacey got that remote control toy (i want one too), and that when you watch homemade porn without the sound - it looks like a self help video.
What questions did I accumulate while here (yes this happens - I am just writing them down this time)?
Why do some guys have to lie about what is going on in their life (like I wouldn't find out) and end up being assholes and date stalker chicks? Why is my tolerance not up to par anymore? Why do some people want to have deep involved conversations about relationships AFTER they got plowed and then get angry and blow up in front of everyone? And why did I hesitate and almost let Cloei take my bra off for the cam panel?
Who am I thanking?
Bonnie and Chris and Yakdog - for throwing this thing
Roger and Teresa- for being the behind the scenes people and especiall roger for the man behind Iron Bartender - i have never been more plowed through your efforts.
Wes and stephanie - for putting up with cramped car conditions and listening to me bitch about crap that they didn't want to listen to.
Ziggy - for always having a bottle of dubious liquid for me to drink from.
Jester Fred and Shelley - You guys always make me laugh and your outfits are amusing.
PlasticBob and Jodilyn - you guys are my new favorite people to be around at a con
CircleK - for sharing stories that you know will get you in trouble later on (hee hee)
Twist and GIRL - for demonstrating what happens when a hoover gets a hold of your neck
Frank and Dave - who were the bearers of the Chocolate Orgasm drink - it rocked.
Jameson - you made me feel very pretty.
Allan - for sharing the Sleazoid moment with us on the balcony so we would crack up when we saw each other in the hall.
Jose: for the fabulous Dance moves and laughs.
John Tackett - for getting rid of an unwanted element for a few days in my life.
All the guys that dressed in drag that were straight - you give me hope I will find that dream guy one day.
Those two girls whose names escape me that helped me get rid of the paint on my back.
The Pimpdaddy that got the lapdance at the Fantasm Pageant - Thanx for feeding me all those horrible cherries.
Yakdog and Teresa - for their mesmerizing analogies on life.
Anastasia and Sasha - for coming down and bringing Mighty Afro Whitey and Sophia LoRent
Mighty Afro Whitey and Sophia LoRent - for taking a chance on all of us freaks
Dave Newton - for not canceling Twisted Bedtime stories and giving me a chance
If anyone has any links they want me to put by their name or reviews they have done (or corrections that need to be made) - do email me and let me know - I can add it to the bottom of this review.

Well that was amazing - but it's over and I have to wait till next year to unleash my new ideas on cam panels and costumes and events that I have for Fantasm. I will be going to Boybutante Ball next weekend (April 20 -21, 2001) to hang with drag queens for not one, but two nites. I am the luckiest gal in the universe. I will also be taking pics and we will play another round of "Girl-- not a Girl" when I come back.