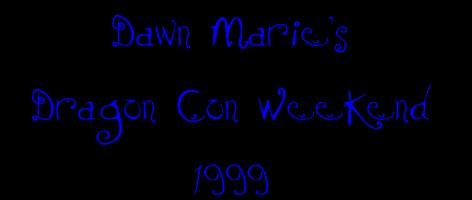 Once again, my good pal Yakdog has his review up for the world to gawk at here.
Dragon Con was held on July 1- 4, 1999 in Atlanta, GA. I had a better time this year than last year. I met the cast and crew of HELL NIGHT - the cheesy B movie I am starring in that will be out in December. I met a lot of cool guests that thought I was funny and entertaining and vice versa. I also participated (i.e. got up in time) in the two panels that I had lined up (HELL NIGHT and the Girls of the Internet) and I think they went rather well also. Now here is the bad news, I took a lot of pics, but when i got home I found that my shampoo had exploded in my suitcase and my cameras and film were ruined. I was so steamed. I know this review isn't as good as some of the others as my tipsy mind takes pics so I can review later the good time I had - so I apologize in advance. So if anyone has any pics of Dragon Con, please please send them over and I will give you full credit of the pics you send me. Or you can even send me a link and I will include it in the bottom of this review. Thanx for your help in that. So for the time being while we are waiting to see some pics, you are gonna have to go to imaginationland or check with the Dragon Con home page to see what I saw at this convention.
I started my day on Wednesday very early. I was so nervous, because this time I was going to have to make this more of a work weekend then partying, though I found I had plenty of time drinking activities. I had two panels I had to participate in and a scene from the movie was going to be shot right there in hotel. I got to the hotel around 3 and met Todd Fischer (director of HELL NIGHT and president of MOONSET ENTERTAINMENT GROUP, Inc.) for the first time ever. We had talked on the phone ever since February of this year, but had never met face to face. It was kind of an awkward moment, but then Rob Prior (fantastic artist for LucasFilms and also plays my ex-boyfriend in the movie) came in with his loud mouth self and great humorous attitude that made me feel at ease.
So that night we basically played the "Let's Go Hang at the Airport Tonite" game. We had to pick up Tiffany and Samantha
who are both in the movie and on the webcam panel as well. They are very sweet girls. Tiffany really knows how to party (smirk). They were a lot of fun to hang out with and I never see Robyn anymore (she got married and now apparently has sworn off cons for her husband - bleech), so I had some girls to hang out with at the con that didn't mind being seen with me in my freakish mode :)
We also picked up Jason Carter (of Babylon 5) and his wife Susie Singer Carter (I wish I could show you this girl's kinked up hair - it was the coolest). Jason was drinking some horrible substance that evening that put him in a fabulous mood. Susie was interested in getting a webcam when she found out that Samantha, Tiffany and I were cam girls. We promised to email her later on it. Later that night we all ended up in Todd's room and threw a hellacious party up there until 5 in the morning. Susie really liked being the operator of the cam and demanded to direct all the pics at the party. She did a pretty good job. She'd make an excellent cam girl. All she needs is a little html training. I signed my contract for the movie after everyone left, so now I am officially Patty of HELL NIGHT.
The next day was spent getting Rob's table at the dealer's room ready and getting our guest badges together for the HELL NIGHT crew. Unlike last year, I didn't have to do a damn song and dance to get a guest badge. Apparently Todd knows a few people higher up :) For lunch, Rob and I went to the hotel restaurant and something very weird happened: We were sitting down and I was trying to get over my hangover by munching on a chicken salad sandwich to quell my queasy stomach when some guy yells over at Rob. Rob invites this man to join us. I wasn't paying too much attention (being nauseated will do that to you) and when i looked up, the man's face looked really familiar to me. So I asked him "Hey, you look a lot like that guy that played that priest in One Life to Live", and he didn't answer for a moment and then he says "Yeah, I'm that guy" and I flipped. Here was Father Andrew right here at my table. I hadn't watched the show for years and I knew the same actor was playing some emperor in Babylon 5, but I didn't keep up with the show. I did mention something about the whole character on B5 being gay and we had a little tiff about whether the emperor was just extremely effeminate or bisexual (I think the guy was a flamer, but what do I know). He then asked how I was a guest here and I explained the movie and the webcam thing (Rob all the while is smirking into his food). Father Andrew then exclaimed that I was a complete idiot for having a webcam as all the net hooligans might be out there stalking me and that I don't know who is watching me. I then retorted "And I suppose you know who ALL your fans are?". He sat back, and realized that what he and I both did was almost the same, just I don't have a supporting cast. For the rest of the con we were buds and he called me Webcam Girl and I called him Father Andrew. He was such a trip.
That night we went to Hard Rock Cafe, and had a great meal with Jason and Susie and the HELL NIGHT cast. Then we all went to the VIP Lounge (you have to say it like an announcer at a strip club for the right effect) and partied and hob nobbed with all the "cool" people. I met some groovy people from the Church of the Subgenius (one guy even came out from Denmark to be there). They promised to attend the Danger Woman show (my all time fav of the con) and that I would see them tomorrow. We all went to bed around 5. Rob ordered a movie in our room (The Faculty) and the last thing I remember of the movie was Todd wisecracking about how bad it is ("this lighting sucks" and "who cast these idiots") before i went comatose. Todd is apparently pretty critical of others' work - we'll see what happens when MST3K gets a hold of HELL NIGHT :)
The next day we had our panel on HELL NIGHT. It was cool being behind a big table with microphones (as if we had something cool to say). I think it went pretty well considering that all of us looked like shit from the night before. Rob and Kevin even fell asleep during the panel. Tom Savini showed up right at the end and made the panel even more fabulous for us, as most of the people there were attending for Tom. Todd had offers from people in the audience who wanted to be involved in the movie from that moment on. He even got a really good portfolio to look at from a special effects artist, as well as tons of offers from noted B Queens.
I had to take a nap at that point. I was getting kind of groggy and had absolutely no vitality or charm at this moment (shocker!). So I took a nap and then got ready for the best part of dragon con - Danger Woman. Danger Woman is expressed better on my Danger Woman review of last year. She lost her back up band and Susie the Floozy, so she had to sing out of a Fischer Price microphone recorder not intended for that size of a room, but other than that she was pretty much the same weird self, except this time I got to dance on stage with her to the Axel F theme and was recognized as a superhero in my latex dress. Yippee!! Even the guys from Subgenius showed up and danced with me on stage. A good time was had by all and I even got t-shirts to relive the moment over and over.
I had barely enough time to get to my webcam panel at 8:30. Todd, Rob and some of the HELL NIGHT crew showed up to give me, Samantha and Tiffany support. We had even more people at that panel than at the HELL NIGHT panel. Considering I hate speaking in public (my voice is kinda low anyway and I do have a tendency to mumble), I thought I did well and Samantha and Tiffany made us all look like the smart, html oriented women we were. Mystrys added to the whole effect by telling everyone about her job as a legal secretary and that she was relatively new to the cam world. The guys took notice of this amazing brilliance of ours and not one single person asked why I didn't get naked (on purpose - I saw the newsgroup post) on cam. Afterwards, they all came up to the stage to ask for photos and questions they were too embarrassed to ask while in the audience. Robert (the man in charge of this panel) then invited almost all of us to come back. Some people, he felt, shouldn't have been on the webcam panel and it will be reflected in next year's programming. So all Samantha, Mystrys, Tiffany and I have to do now, is find two more cam girls and another cool idea to go along with the webcam panel. (any ideas guys?).
Later that night we all hung out at the VIP Lounge and Farshad's party - Farshad will be Sultan of Exoticon next year. It was kind of funny watching Rob and Tiffany try to get this poor man in a kilt drunk so that Tiffany could take a pic under his skirt when he passed out. Shameless, I tell ya. It never happened - we got bored quickly after the alcohol ran out and left for downstairs to see if there was anymore partying going on at the hotel bar as well as drinks. We weren't disappointed. Jason was rambunctious as ever stumbling from person to person and making everyone laugh with his british wit and humor. We even had arm wrestling contests inspired by Susie.
I didn't get to bed till around 5 again, but this time I slept in till 1. Around 4pm we had to get ready for the shoot (at least Jenna did) and we had to find 3 million things it seemed for the shoot (cables, cameras, etc.) It was kinda fun watching Todd direct Jenna around and be so intent in his work that he forgets everything around him. After what seemed like hours, and having to watch for people coming through the hallway into the scene and having Debi (she plays Debby in the movie) strong arm all the passers-by into an alternate route, the scene was shot and now all they needed was Tom Savini to do the special effects. He did a really cool effect of having Jenna's throat slit.
Having that out of the way, Samantha, Tiffany and I went down to chat with Robert about the future plans for the webcam panel and set up an interview for Dragon Con (you can see our interview if you buy the video from Dragon con - it gives highlights of the con as well). I changed into my ivy outfit (with Rob's approval after his leering stare) and set off to the interview where we discussed even more of HELL NIGHT (Todd seems to have a way of putting this movie into everything we did this weekend - it got more exposure than my body in one of my skimpy outfits).
We went off to the VIP Lounge again to schmooze with the more important guests (i'm pretty cool, but I'm not that cool), and I ended up doing more shots than I should with Rob and discussing some band member's (from a name I can't spell, but they all dress up like star wars figures) carrot tattoo on the back of his head. I also spoke with Brandy Adcock who runs a radio show in Atlanta (who now wants to read my rant on the air about my cool idea for a game show). He was also kind enough to send me some pics found here (they are of Danger Woman's Show). We partied more, but I think Tiffany and Rob took the cake as they got to party with Godhead later. I was way tired at this point to try to keep up so I went to bed without even going to the GWAR show to get thrown in the world maggot. (Techno Destructo even invited me to get thrown in).
The next day was spent saying our good-byes. I must have made quite an impression on some of the guests, for the each took time to hug me (Tom Savini even gave me a kiss on the cheek - a rare event according to some), and exchanged emails with me to stay in touch. I took Todd to the airport that night and then got home around 1am Sunday morning.
I know I have forgotten to mention a lot. There was a cool guy named Vince (Todd's publisher friend and actor in the HELL NIGHT movie as Will) who reminded me so much of Flounder from that movie Animal House. He was a riot to talk to and every conversation we had made me almost pee my pants he was so funny. Debby was this cool chick who plays in the movie as well and looks exactly like Julia Roberts (sorry guys, she is taken). Trish Stratus (Mary in HELL NIGHT) is a body builder from Canada that was a lot of fun (when she chose to fraternize with us). The Wyerd Systers who seemed to be extremely helpful in whatever was going on - they could get coffee, make lunch appointments, read your tarot, make a costume - you name it and one of those three could do it. They were like your moms away from home. There were so many more people that I met and liked and hope see at future conventions.
There are some things that pissed me off at the con. I know my laptop broke down on Friday nite, so the updates never got sent. I never got to hang out that much with the Reverend to find out just which porn comics he likes the best out of his stash, and I never got to hang out with Con-Tour/Fantasm - a group that has been my party pals at cons since forever. I apologize to everyone I didn't get to hang with and hopefully at the next con, it will be a different story.

What did I learn this weekend?
I learned that Todd is some sort of alien, because he never did sleep or eat. I learned that celebrities are only celebrities if you know who they are, - if you don't watch their shows, they are just like everyone else. I learned that shampoo should be contained in a ziplock bag so that I can have film to do a decent review. And last but not least, I learned that if you pray hard enough to the right gods, evil things happen to people I don't like :)
Well, I am not sure what the next review will be.. I hope to have an online journal of the movie shoot I do in July so I don't have to cram 2 weeks worth of memories I can't contain in my head onto a page for six hours at the computer. So I think the next review will be at MOCtoberfest where I plan to have the whole HELL NIGHT crowd over as guests at the con. Check out the review page again after Halloween. Until next time.....

All images and text copyright 2000 by Dawn Marie
Use of images and/or text from this site prohibited without express permission of Dawn Marie