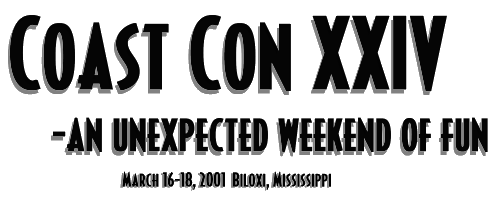 So I went off to Biloxi for Coast Con last weekend cuz some friends of mine who run this convention asked me to be a guest and also cuz I knew some friends from Fantasm would be there and of course the Reverend Maynard is usually a source of amusement. I had heard that this con usually sucked - so I was prepared to be my very own fun machine and create my own should this occur. I was greatly surprised. I dubbed this con - the con for meeting a ton of people (not very original - but it fits.) Usually when you go to a con and it's your first time there and you dont' know anyone nor are you with someone who knows anyone - it's really tough to meet people - this con was way friendly.
On top of thinking that this convention was going to be a downer, I had to drive 3 hours to Montgomery and then ride for 4 hours more over to Biloxi with the Reverend. I don't do well on long car rides. In fact, I despise them and avoid them at all costs. But I had promised Dave and Charles (guest liason and chariman of the con) that I would be there - and more than despising car rides - i hate being called a flake. So at 3am on Friday morning, I packed up my stuff and headed over to the Reverend's house so we could make it to the registration line by noon. I guess I must have miscalculated cuz I got there in plenty of time (I drank a TON of tea) and I had to wait for the reverend to get ready to go. I tried to sleep on the way over there - but you know the Reverend's taste of music isn't quite what I am used to (60's and old jazz plus a little of some unknown 80's bands) so i think i slept for an hour.
Since I got to rev's too early, we arrived at the convention earlier than our friends and the registration line wasn't even open for another hour. We looked around the dealer's room for Chris and Teresa and for Tracey (one of the rev's Jonestown Party pals) and then after realizing we were not gonna find anyone - settled into the registration line. Dave found me later and gave me my guest badge (How can you not appreciate a guest badge that says "cuz we like her") and then I waited for Rev to register. Chris and Teresa showed up right as we were getting out of line and we went to the hotel (the convention and hotel are not in the same place which is a huge pain). Then since I had had no sleep - i slept until 7pm. Tonya and Bryan had shown up as well with Chris and Teresa and Tracey and we all went to King Buffet to eat all-you-can-eat sushi and chinese food. I had to be rolled out of there after four plates.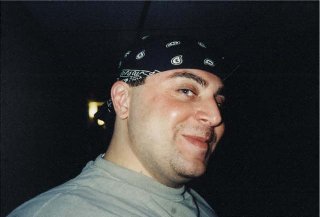 Farshad - the king of all party throwers.
Then it was time for parties. Reverend and I had already run into Farshad that day - and he had told us of his party on the 7th floor. So we all got ready to go. I was wearing what i like to call the Garden Party Dress - as it's white and strapless and it really doesn't go with anything in my closet nor my life except for at a convention. It also looks like the same dress Christie Brinkley wore in that Uptown Girl video minus the hat.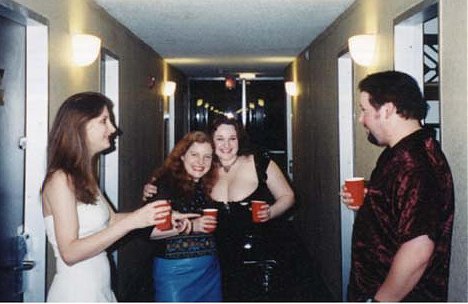 Myself, Teresa, Tonya and Brian - hanging out in the hallway waiting to go to the 7th floor
While partying on the seventh floor - we realize that these parties need something - and it's body shots (of course). However, there is something different that this con has than other cons - a slew of underage people that can't drink or are trying to scam drinks actively and not realizing that I have shoes older than them. One thirteen year old boy was a source of amusement to me as he was watching Teresa and Tonya do body shots and apparently never saw two girls kissing (you have to get the cherry out somehow). The look on his face told me that that image was burned into his brain for the remainder of his puberty. How sweet.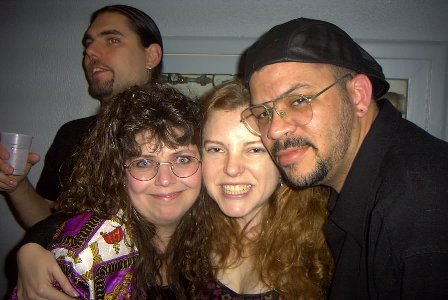 Don't shoot me but I forget the guy in the beret and the chickie next to Teresa - I didn't actually get introduced to them :)
This con also was different in that no one was very sociable in that manner of body shots. They acted as if they had never seen whipcream before. Most of the gals there were shocked and most of the guys were too shy. Grrrrrr! Ok. that's fine, we found other willing candidates that we already knew would be good victims to the shot party - but still, it's all about meeting new people, not licking cream off people you already know.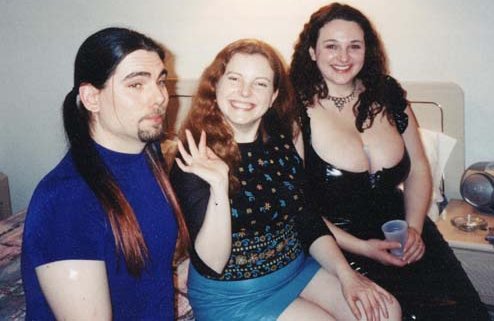 Chris, Teresa and Tonya - taking a break from the body shots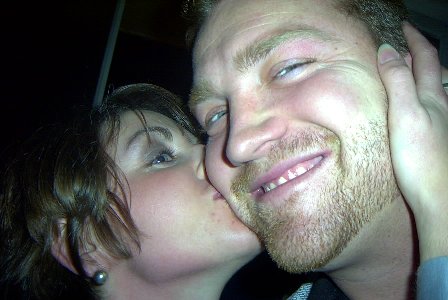 Here is Larry having way too much fun for someone who is married (and came here without his wife)
We went downstairs to our room to refresh the body shot liquor and as we were "sampling" it (again), Dave (guest liason for CoastCon) shows up with some guests of the con in the room across the hall. As usual, I have no idea who these guests are and they are assuming I do (i find out later it's Larry Bagby III of Buffy the Vampire Slayer and Christian Lee - a really funny stand up comedian). All I know is that two cute guys are smiling at me wanting to know what a body shot is - of course - I show them and then invite them to our room where Teresa and Tonya give a follow up lesson. I think this was their first con. Too funny.

Here is a self pic that christian took of us with my camera.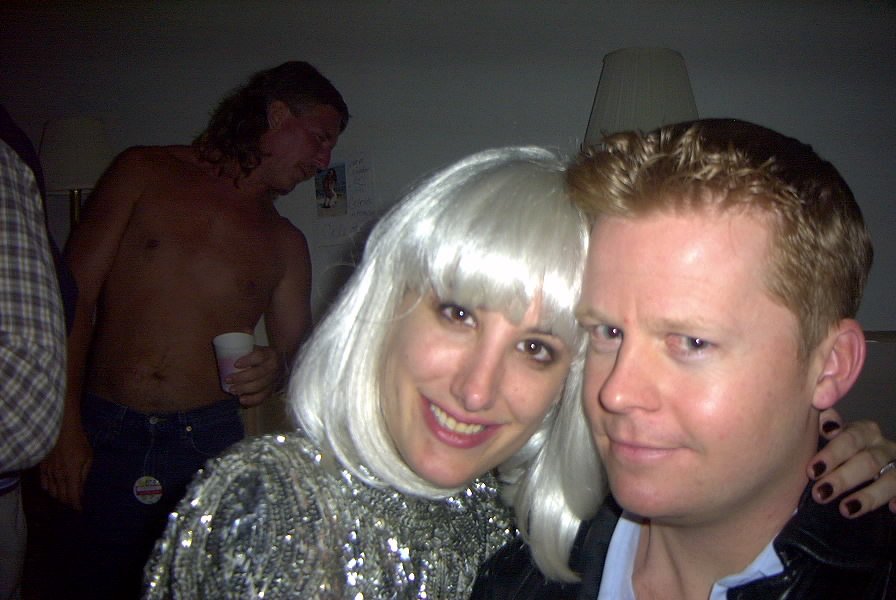 It's almost as if he was TRYING to get the shirtless guy in back of us.
I ran into them a lot at the parties upstairs, especially Christian. He is such a sweetie and we must have talked for hours. He was making me laugh until i almost peed my pants. Larry and Christian both thought that Reverend was the coolest thing since sliced bread after he put his screwdriver in his nose. Reverend is always good at the parlor tricks.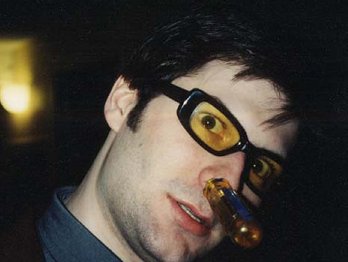 The Reverend in his classic screwdriver pose
I finally passed around 5am and got up at 1pm to find out that I missed a panel that no one told me about.(the dating game panel - i lagter got an email from someone that was sorely dissapointed in me as well). Grrrr.I spent the afternoon hanging out at the Fantasm table in the dealers room. (Tracey and Reverend were making me and Teresa laugh by singing this all day). I went to visit Christian at his table and was accosted by another Buffy person at the same table. He bitched me out about the panel I missed. Then I had to ask who he was (I just don't watch enough of the right TV I guess) and then I got a closer look at him. He was soooo short (like five foot nothing) and he wouldn't stand up to show me (later I told him he was so little and cute I could take him home in a carry out box - he laughed and said sure - and then it was my turn to be shocked and stammer some lame excuse). Befre I left their table I told Christian and Larry I would probably run into them later at the parties.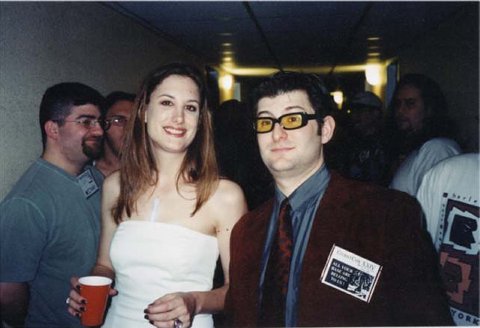 The reverend and I looking fabulous.
I left as the dealer's table closed down at 6pm and then all of us (Reverend, Tracey, Teresa, Chris, Tonya, and Bryan) all went down to the mall in Biloxi to check out the leather store. I found some really cool flourescent barbell studs for my piercings, but refrained from buying them (not sure what outfit to put them with at the cons). Then we ate at a really nice seafood restaurant (Hook Line and Sinker).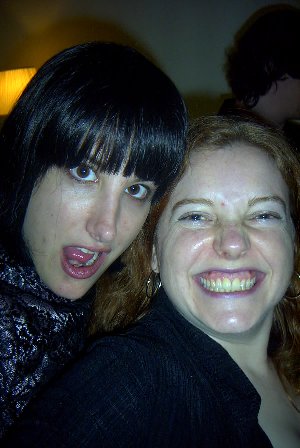 Why is it when I took a pic of me and T we looked like aging drag queens...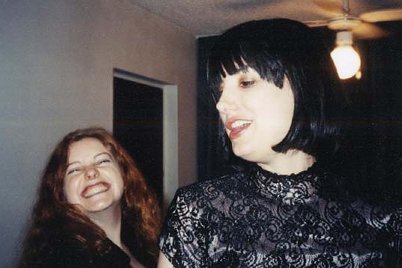 ....but when Tracey took one of us - we looked fabo?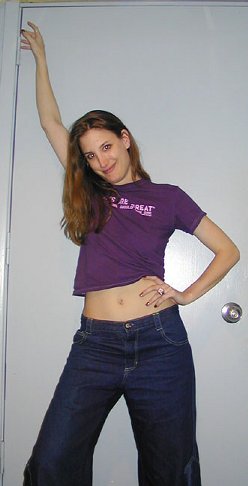 If you could just see the bottoms of these pants - i can fit my car in there.
I got back just in time to change into my black wig and black lace dress so I could be on time for my next panel with Keefer. Wouldnt' you know it, no one showed. Oh well, more time for partying. I went back to the hotel with Reverend and everyone and we proceeded to drink more. I hung out a lot with Christian cuz he was making me laugh and I finally got my camera to work so I took pictures of this evening.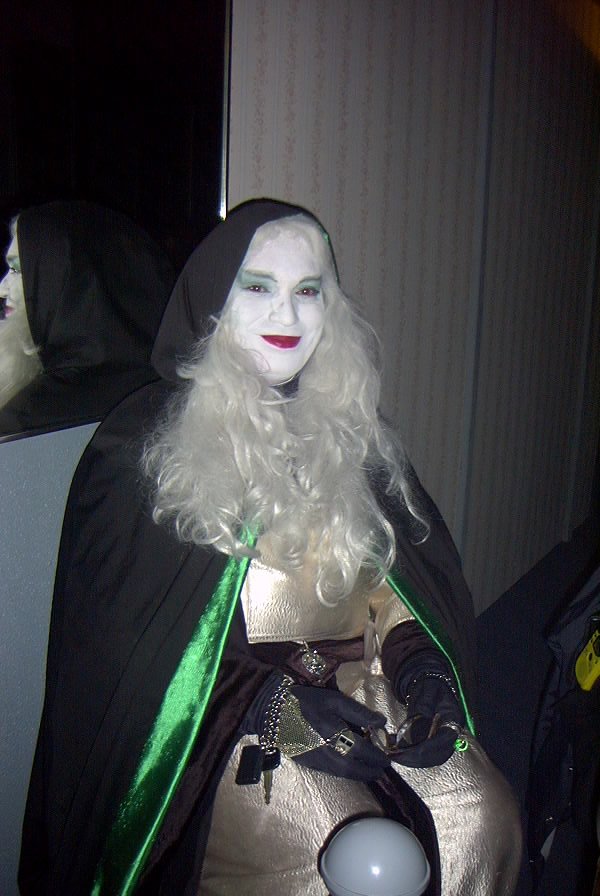 I always see her(him) out and I never get a pic - i fixed that that at this con.
Around 4am I stumbled over to the lounge on the top floor of the party and hung out with a ton of new people I had never met or seen before and stayed there until 10am where i found the Reverend waiting up for me like an angry father. Grrr. Sorry Reverend - I wish you would have stayed up later.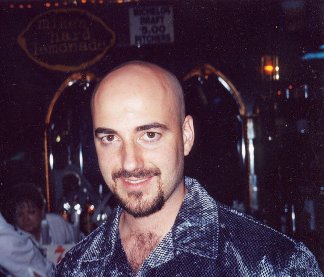 This is michael - he supplied me with a lot of the pictures you see in this review.
These next shots are all Michael's - he took a lot of us in the early morning hours of Sunday: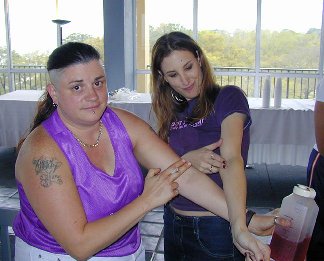 This is Ziggy - i forget why we were doing this - but this is the international sign for "NEED NEED"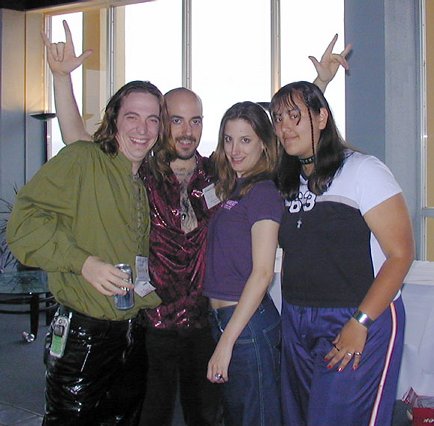 Thad, Michael, myself and Anne - with a lot of alcohol in our systems.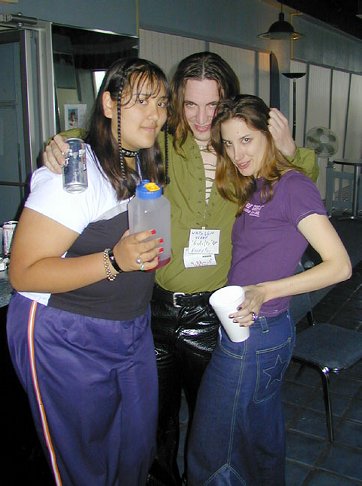 Anne, Thad and myself - Anne has our alcohol supply (what little is left)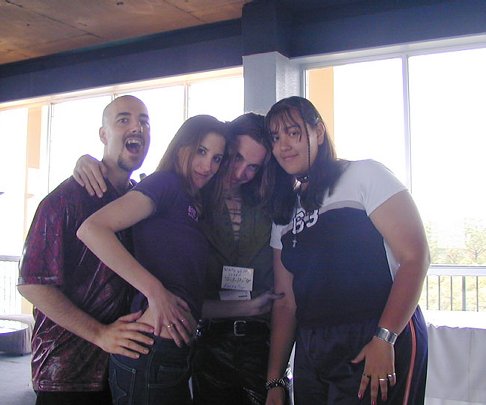 Now all the alcohol is gone - but we are still partying
What did I learn this weekend?
I learned that things that are re-enacted by Reverend and his pals are usually better coming from them then on the internet, that I actually can remember people's names if I put my mind to it and put my drink down, and lastly that if I expect the worst - i am pleasantly surprised.
Most common phrases heard out of my mouth that weekend:
"Thanx. A drag queen friend of mine got it on ebay for me for $X."
"Yes, that's my real age"
"Where do you want it?" (talking about the body shots.. gawd)
New people I had met this weekend:
Dave - who always remembered who I was no matter what wig I was wearing.
Ziggy - Who impressed upon me that I damn well better remember her name and age when I see her at Fantasm. and that she can kick my ass
Thad - who always had a beer for me and a sweet smile
Anne - for not leaving any of the conversations out of fear or weirdnesws
Michael - who gave me a chance and not thinking I was the biggest bitch on the internet
Angel - who seemed to always be where it was at - at all times (quite a talent)
Tonya - for shocking me with that vinyl dress

People I want to thank
Dave Collette - for inviting me to be a guest
Charles - for making sure I was still invited
Bill Blair - for understanding that my last review was not a swipe at him.
Christian Lee- for making me laugh uncontrollably for most of the weekend
Larry Bagby - for bringing Christian and being almost as funny
Tracey - for introducing the lobster and magnet song
Chris and Teresa - for letting the rev and I crash in their room.
Ziggy - for not kicking my ass.
Michael and Tracey - for emailing me pics to use in this review so that it doesn't look so bare.
fates that swirl around me - for letting me be in the right place at the right time.

People I want to apologize to
The Reverend Maynard - cuz sometimes I can be a real bitch and I know that the good time that you wanted to have the time that you had didn't equal out and that most of it was my fault.


The next con i am going to is Fantasm on April 12- 15, 2001 - it's one of the more fun filled shows i go to and I will be doing a cam panel that's a live broadcast there (it's being run by someone else not me so the chances of the equipment working are higher). I also hope to get some pics there to upload daily (but once again - it's me and the unlikliness of camming or even touching a computer so take it with a grain of salt). At least I will be able to give you other cam girl sites before i go so you can look at them instead. And as always - if you are thinking of going - PLEASE COME UP AND INTRODUCE YOURSELF - it's fun and easy and doesn't cost a dime. see ya there.