Ok it's time to play everyone's favorite Drag Game ---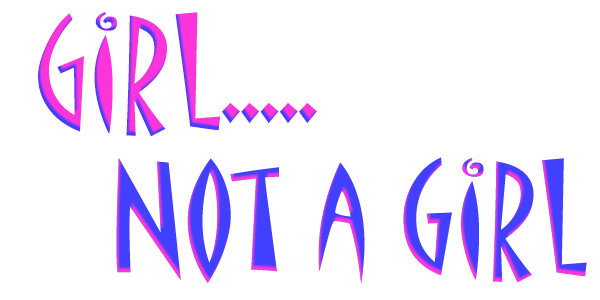 Now of course, as your hostess, I have to have an intro before we launch into the game. The lovely people of Boybutante Ball made this activity on my site a possibility and I am so glad for it. Because of them, I am able to meet people like Sasha, Anastasia, Mighty Afro Whitey, and Sophia LoRent to name just a few of the lovely ladies I wish were straight.

This weekend was different then the other balls I have attended before. This weekend was all about having the VIP treatment by being invited to the Friday Nite Cocktail hour, having a VIP table complete with champagne and seats (usually we are having to stand and sweat with the masses - this year it was as if we were important and stuff), the fabulous after hours party, and no drag weekend would have been complete without someone mistaking me for a man in drag. It always makes me gush with joy when I am asked how I tuck "it". This year was even better, as I had three people confused and two of them were drag queens themselves.
So we will first go into a pictorial review - and then I will send you reeling into the confusing (and dreadfully, sometimes not so confusing) gender identity game of "Girl.. Not a Girl."
The first nite was Friday at the Cocktail Party (invite only), so I chose to wear my most stunning dress and then I thought I would mess with Sasha and tell her the price of my fabulous gown - 1 dollar. I knew she would be catty about it, but it's one of her better qualities and it makes me giggle when it's not directed at me.
Here are all of us (Shelley, myself, beth in the pic on the left and shelley, bonnie and beth in the pic on the right) outside the bar in what Bonnie likes to refer to as the "rock star parking." I don't get it - we were walking for blocks in our heels silently cursing her. Notice my fabo gown for a dollar.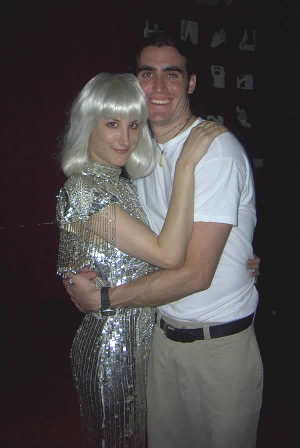 While at the party, I met a waiter named Shawn that claimed to be straight and wore dresses for fun. Just my luck I never saw this cutie again. (Sigh)
| | |
| --- | --- |
| | |
| Here, Andy sports his goth look before we go out on Friday... | ...and here Vortex sports his liking Andy's goth look at Boneshakers |
| | |
| --- | --- |
| | |
| Here we show how gullible I am as they convinced me to go to the Lunch Paper during the course of the evening. It's a biker bar - but they had the best chocolate martinis. I must have had about five. | Chris, Bonnie and Andy - I just dig Chris' goggles - they are so Van Halen. |
| | |
| --- | --- |
| | |
| Sasha invited us to come hang with her at Boneshakers - of course the party always follows her. | This is Pebbles, a regular at Bone shakers and she is one of the gals that mistook me for a man.. that so rocks. |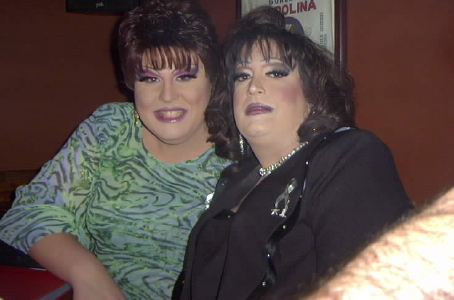 Sasha and Anastasia - loaded on Cape Cods and still looking fabulous. I love these gals.
The next day we went shopping for various things and I came across of all things - a Cruella De'Ville wig. The drag gods smiled upon me as I made my purchase and made sure that no one else had that wig either (nothing like showing up in the same hair as someone who looks better in it than you).
Vortex, Rob and Chris all went to get body pierced while us gals stayed home to get some rest for the big event that nite. We all wanted to look flawless that evening - not flawed with dark circles. After our naps and oohing and ahhing about the guy's new nipple piercings, we set out to get ready. I had already decided what I wanted to wear (the Dalmatian outfit) and was helping others find what corset best described them that evening. Special thanx to Shelley for helping me put on my eyelashes. I had no idea that they would be so difficult. Luckily I have my own lashes to begin with. I don't envy the preparation time of a drag queen at all.
| | |
| --- | --- |
| | |
| Here was the final look for Bonnie, Chris, Beth and Shelley | And here is the fabulous VIP table. Note the free champagne and party hats. |
This year's Boybutante Ball theme was "She-Haw," complete with straw hats and trailer trash. Now, correct me if I am wrong here, but of all the themes possible they could have picked, this seemed to be the worst one to show off how fabulous and diva you can be - this theme reminded me of home - just more sparkles and less trucks were seen. I can't understand how you would choose to look like a trailer whore when you could just as easily find them in the south without even trying. I dunno, I wasn't there when they made this mistake and Bonnie reassured me that she did everything she could to stop this madness. Luckily, i never follow the theme to a party - so I was saved from this mess anyway. But everyone out there looked fabulous despite this hardship and the hair was to die for on some of these queenies.
One of the main attractions that I love to see at this show is Mighty Afro Whitey. She always has her trademark afro and clothes that scream diva. This year she borrowed part of her wardrobe from Bonnie. I wish drag queens would do that with me - that would be the ultimate compliment.
and of course where you see Mighty Afro Whitey - you see Sophia LoRent. After donning her glasses she informed me that "it was time for her close-up." I didn't question it. Her and Mighty Afro make such a cute couple.
| | |
| --- | --- |
| | |
| Mad props go to these guys for tending the bar. They made an absolutely angry screwdriver - I mean that in the best way possible. | Here are some of the prizes they gave out this year. In keeping with the redneck theme - they put straw hats on top of beer mugs mounted on Alabama license plates. I laughed a lot at seeing them and then realized that one of them was from my home city. Gah! |
| | |
| --- | --- |
| | |
| I know I am breaking some sort of drag queen code - but I had to get a picture of the bathroom in the dressing room of these divas. I couldn't believe the graffiti. | Here, vortex attempts to see if his camera actually was taking pictures this whole time. Note the cool-a-roo head set. We all got to wear those for the costume contest and look important. They never actual worked very well - but we looked good in them. |
Anastasia is such fun to party with - and she has the best stories. I think she actually got the guy attached to that knee to go home with her.
Teresa and I thought these gals were way fun. They flirted with us while we were outside getting some air. They were real cuties.
Here we have Sasha - one of my favorite people anywhere - I am so glad she hung out with us this weekend. The stage pic is a blur - as she is always moving and shaking it way to fast for me to keep up. This was the best one out of three.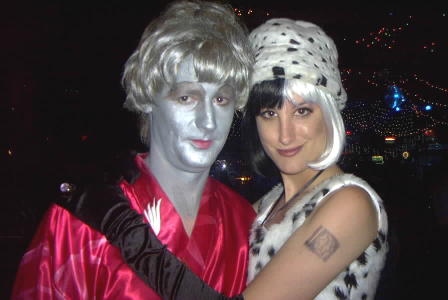 I don't have a story here as I don't know this man (he called himself silver - I would too) - this is just a good opportunity to show off my groovy wig.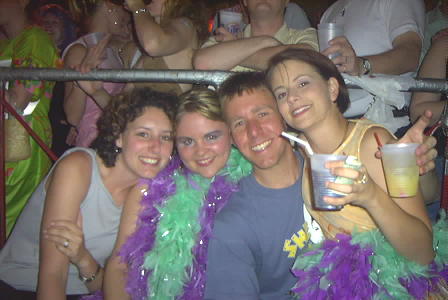 These pictures after this one are all kinda bad looking. My camera didn't take the stage pics as well as I would have liked it to - but if you were there in person - you would have seen what this man created himself with his own hands - trailer heaven. He was sitting behind me gloating about his work and hanging with some of the flower chicks - so I turned around and took a pic.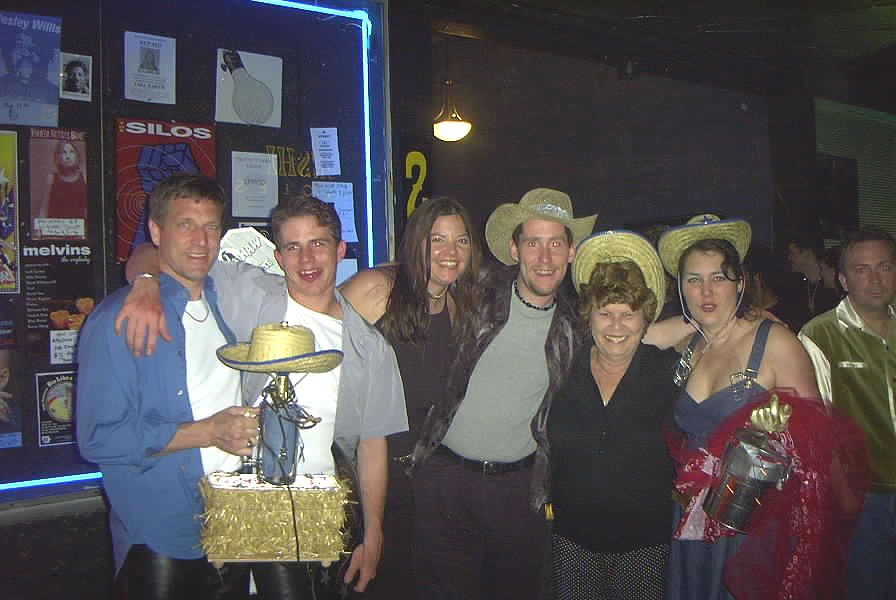 These last two pics are mainly taken because the woman in them was celebrating her daughter getting an award and they asked me to, they were supposed to email me and let me know where to send it - but they never did - so I left the pic in it's entirety so they can download it for themselves. The mom was so cool. She snuck into the roped off VIP area and while I wasn't looking she STOLE MY SEAT. I couldn't believe it. The audacity she had rivaled mine. I was so impressed that she got through the guards and acted like she belonged there I forgave her instantly and then told her how impressed I was with her actions after the show was over. I hope she doesn't feel bad. I thought it was way cool. I hope I have the chutzpah she displayed when I get older.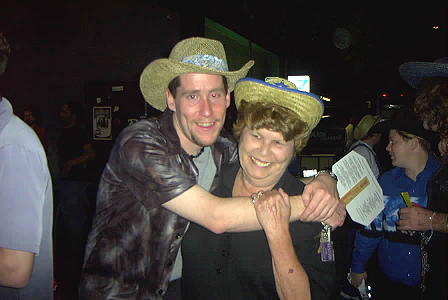 Here is the mom and son just as pleased as anything.
During the show, Vortex, Bonnie and I got to judge the costume contest. We got to wear these cool headsets that looked cooler than they worked. No matter - I got to fulfill my dream of hanging on stage with drag queens. That right there was worth the trip.
After the show, we were invited to the after hours party, which rocked. During the party though, Sasha looked at me and ripped my false eyelashes off and threw them off the front porch of the house saying that they "weren't working for me" and left it at that. Thanx Sasha. Where would I be without you?
The next day, we went to the brunch where I was sadly greeted with the face of Sasha without drag. Now I love her to death and it really doesn't matter what she is wearing - she is always Sasha to me and still cool as hell - it just ruins the magic of my weekend when I see her as a guy. I even refuse to remember her guy name. I just like her being Sasha. Luckily, Anastasia was dressed for Sunday church at the brunch and that brightened my day considerably. I hate saying goodbye.
As I was driving on the freeway on my way home to Alabama, I decided to take the T-tops off my car since it was such a nice day and I wanted to keep the fabulous feeling going. And then I started giggling about my weekend and then I started laughing as I was remembering the story that Sasha had told me earlier of Anastasia being plowed and cooking breakfast at 4am when they get home from the clubs in drag. The thought of Anastasia in an apron, a pan in one hand and a bottle of vodka in the other with her eyelashes about to come off and slurring about this and that while trying to cook and stumble about the kitchen carried me all the way home. I will be back next year.
Big thanx to Bonnie, Chris, and Teresa for thinking of me when they had an extra seat at the table. Thanx to Beth, Shelley, Vortex and Andy - for making it the good time that it was and special thanx to all the drag queens (Sasha, Anastasia, Mighty Afro Whitey, and Sophia LoRent to name a few) for making this whole event possible and for putting up with my fruitless "know any straight drag queens?" questions on my endless search for the cross dressing man of my dreams.
Okay okay... it's now time for the guessing game of Boybutante Ball.....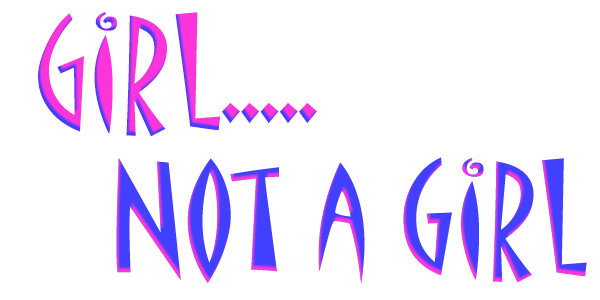 Now if your computer is as slow as mine - you have to wait till all the pics load up before you start in on the guessing. No fair peeking - if you are that concerned about not being able to pick the right date for the evening - I can get you a list of clubs to avoid.
Answers are on the bottom.
1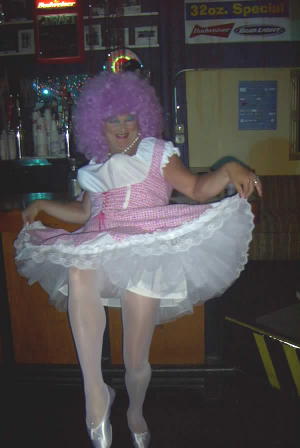 2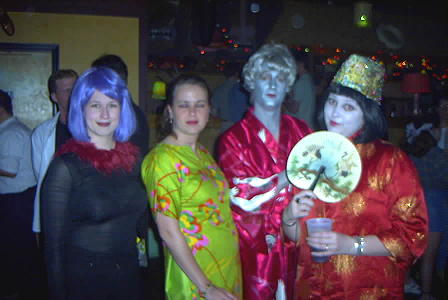 3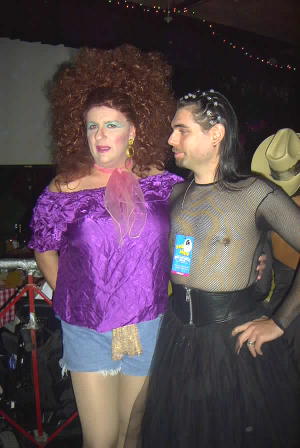 4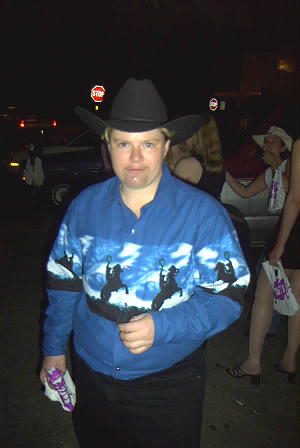 5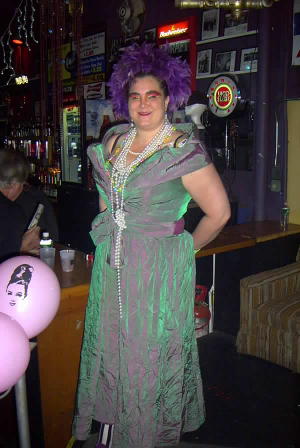 6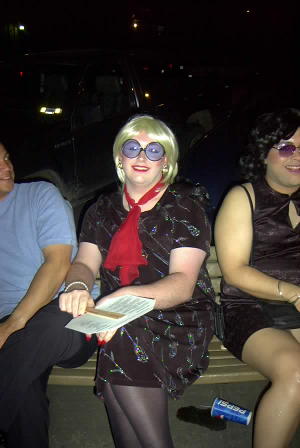 7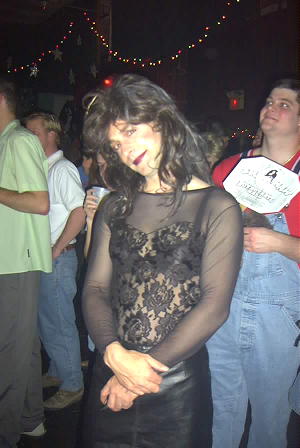 8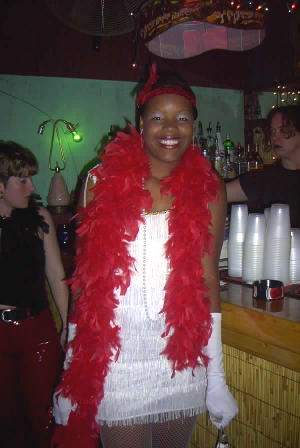 9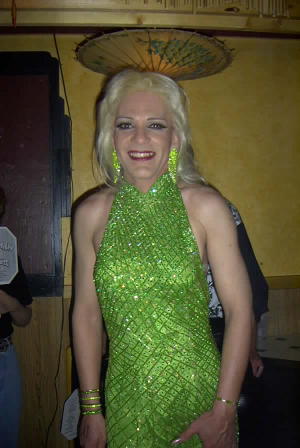 10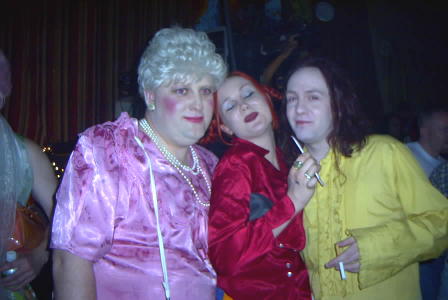 11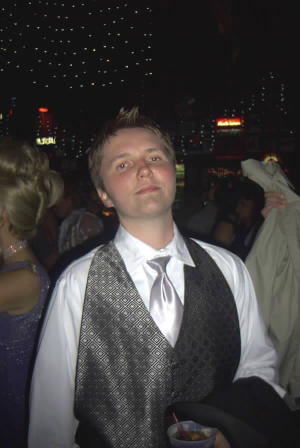 12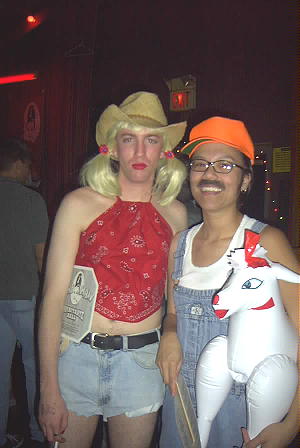 13
14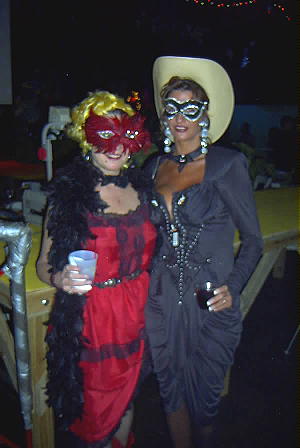 15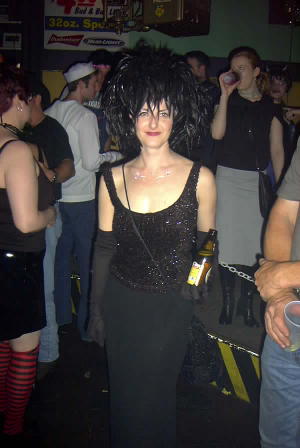 16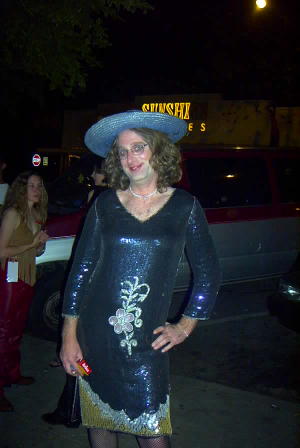 17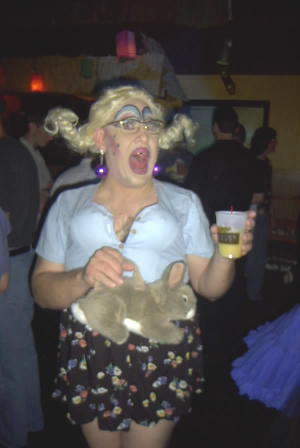 18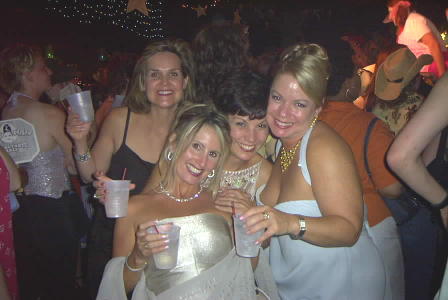 19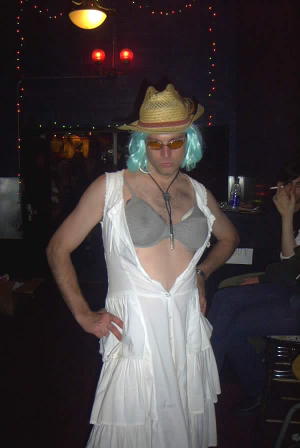 20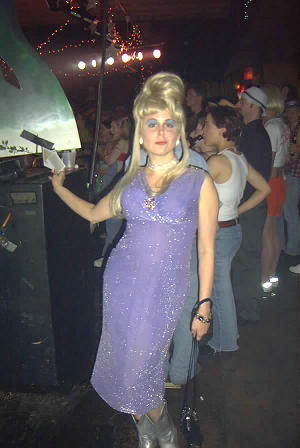 21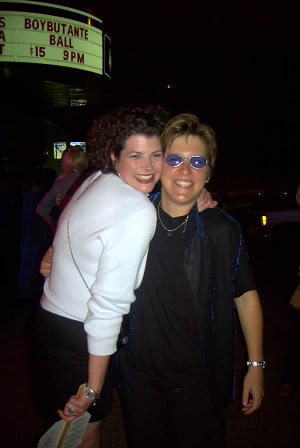 22
23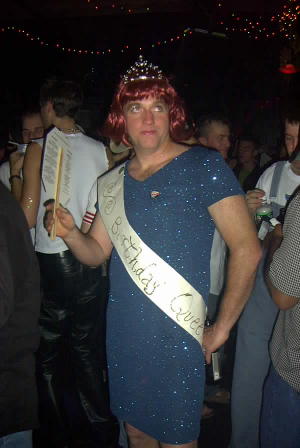 24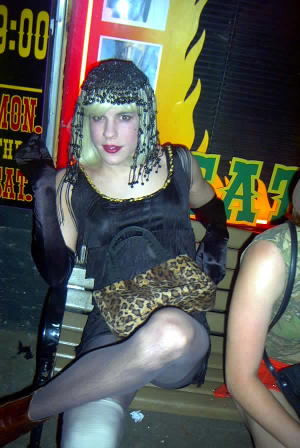 25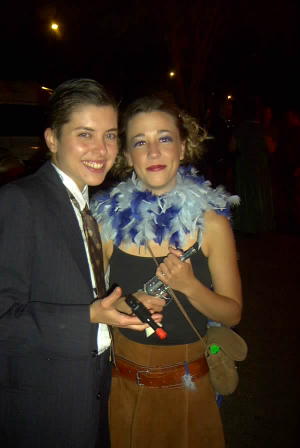 26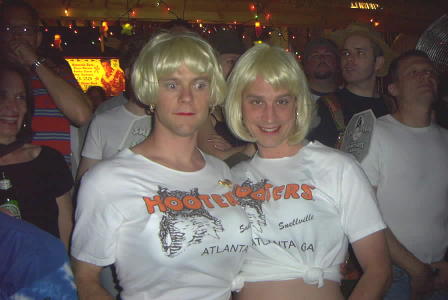 27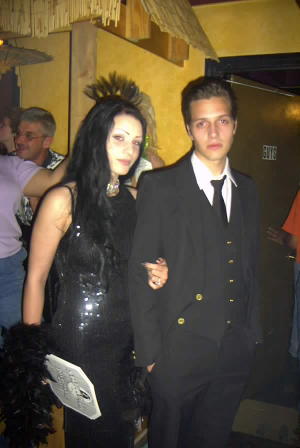 28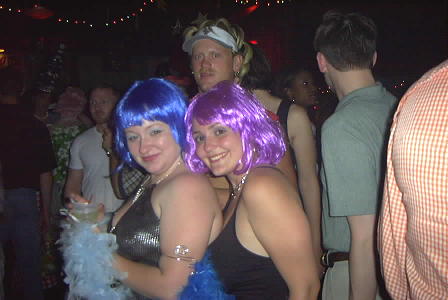 29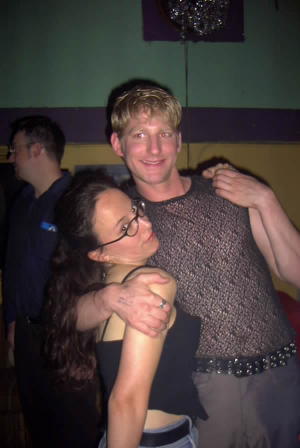 30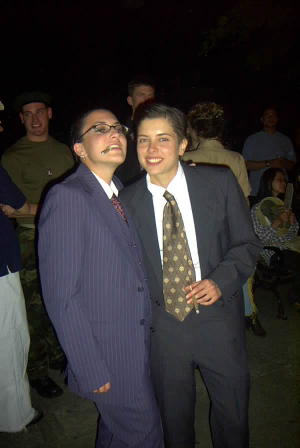 31
32
33
34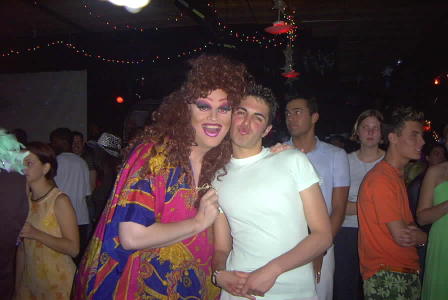 ok.. here we go... ready to see how you did? even if you aren't - here are the answers.
1. Boy (that one was easy)

2. All girls but Mr. Silver

3.Both boys (don't anger Chris)

4. Girl

5. Girl (don't feel bad if you got this wrong - I had to ask too)

6. Boy

7. Boy

8. Girl

9. Boy

10. Boy, Girl, Boy

11. Girl

12. Boy, Girl

13. Boy

14. Girls

15. Girl

16. Boy

17. Boy

18. Girls

19. Boy

20. Boy

21. Girls

22. Boy

23. Boy

24.Boy

25. Girl

26. Boy

27. Girl

28. Girl

29. Girl, Boy

30. Girls

31. Boys

32. Boys (this is the winner of the costume contest posing with Afro Whitey)

33. Boys

34. Boys.
I don't have any actual scoring - but if you got more than ten wrong - you are in a whole lot of trouble and have probably already been on Jerry Springer's "Honey, I have a secret to tell you" show. If you got them all right - then you are secure in knowing what your date truly is underneath all that glitter.